Newspaper review: Libya strikes test global support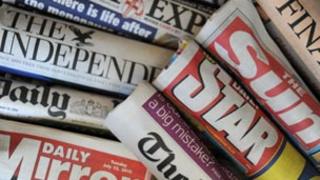 With Libya predictably still dominating the front pages, several papers seize on comments by the defence secretary that Col Muammar Gaddafi could be targeted.
Liam Fox refused to rule it out, but said coalition forces would not be "gung-ho", reports the Daily Telegraph.
The Financial Times says "aides were quick to play down the remarks", saying Col Gaddafi could be killed by mistake.
"Rash words," argues the Daily Mirror, "will damage international support" and make the "mission more difficult".
'Wobbling' support
Signs that support is already waning for the military action are picked up by some papers.
The head of the Arab League "appeared to wobble", says the Guardian.
The "sheer destructive power of the initial attack, claims of civilian deaths and a warning by ... Gaddafi to prepare for 'a long war'" are blamed.
Criticism by Russia, China and the African Union is also "a setback", says the Independent, which urges the West "not to lose the propaganda war".
'Modest' sweeteners
Many of the papers seem to have a good idea what will be in the Budget.
The Daily Mail suggests plans to raise flight taxes will be abandoned.
While the paper calls it "a rare boost for families in austere times", rising airline fuel duty makes it "unlikely that passengers will see any appreciable cut" in ticket costs.
The FT predicts sweeteners for low-earners and motorists, that will be "modest but targeted to achieve maximum political and economic impact".
Many happy retweets
The Sun is among several papers to report on the rescue of an 80-year-old woman and her grandson from rubble nine days after the Japan earthquake.
"Luckily, the pair had been pinned in their kitchen and could eat food from the fridge," the paper explains.
Five years old today, Twitter has become, says the Independent, "part of the language of everyday life".
But its continuing high proportion of "pointless babble" remains "true to its founding purpose", the paper adds.