2012 London Olympics ticket sales 'steady and healthy'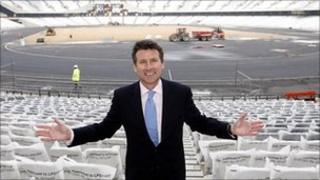 The first week of ticket sales for the 2012 Olympics in London has been "steady" with a "healthy" interest in all sports, chairman Lord Coe has said.
"Touch wood, the technology has coped," he said.
But the ticketing system has been criticised by consumer group Which? because fans will have money taken from their account before they know which tickets they have been allocated.
Head of ticketing Paul Williamson said the system was "fair".
Speaking one week after 6.6m tickets were released for sale, Lord Coe described the sales rate as being "steady".
"We have got a very, very healthy interest across all sports," he said.
People have until 2359 on 26 April to apply for the events they want to see.
Lord Coe, a former Olympic athlete, defended the decision to limit sports fans to buying seats for up to 20 sessions, saying it was one way to ensure those on a budget were not priced out of the Games.
"It is not an exact science but we did not want people just going in there and saying 'I want every session in cycling or every session in judo'."
He added they did not want a scenario where "people with the biggest income cornered the market".
The tickets cover 26 sports over 645 sessions, at 34 venues.
Lord Coe said he believed the message had got across to people that there was no rush to buy tickets, because they will not be allocated on a first-come, first-served system.
Everyone who applies during the six-week period will be treated equally. Ticket prices for the public range from £20 to £2,012 and oversubscribed events will be decided by a ballot.
Lord Coe said it was a "really big process" that could take until June to get through.
Warning urged
Speaking earlier on BBC Radio 4's Moneybox programme, Martyn Saville from consumer rights group Which? said the booking system was "crazy".
He said it was wrong that those who had put in a bid for tickets, and were successful, would have the money taken from their accounts as early as 10 May but without warning. It could then be as late as 24 June before they were told which tickets they had been awarded, he said.
"There's no notice whatsoever about when they are going to take the money so it's just going to disappear out of your bank account."
He said organisers should send an email 48 hours before the money is due to come out of their accounts, not least because people were bound to bid for more tickets than they actually wanted, to increase their chances of winning something in the ballot.
He said that as he wanted to attend three events, and wanted to sit with friends, he had put in multiple bids that - if all were successful - would cost around £1,000.
Head of ticketing for London 2012 Paul Williamson said they had been "very clear" that they wanted people only to apply for events that they wanted to watch.
"We're not asking people to apply for anything which they don't want to go to. No one can ever pay more than they are expecting to pay in their application so we think it's a fair system."
He said it had also been made clear that the money would be deducted from people's accounts between 10 May and 10 June.
"They know very well what they've applied for, and so how they should budget for it," he told Moneybox.
Several Olympics events will be free, such as the marathon, and 2.5 million tickets will be available for £20 and under.
People can apply online or by using a paper form, obtainable from branches of Lloyds TSB, Bank of Scotland in Scotland and libraries in Northern Ireland, until 25 April.
Children under 17 will be able to "pay-your-age" to see some of the early heats, while the over-60s can watch for £16 at the same events.
Some 75% - or 6.6 million - of the 8.8 million Games tickets are available to the general public via the application process.