Newspaper review: Budget widely anticipated in papers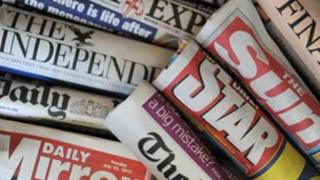 The Budget is previewed on nearly all of Wednesday's front pages.
The Daily Mail, the Sun and the Daily Express all claim millions will benefit from the chancellor's decision to raise personal allowances.
Meanwhile, the Times argues George Osborne needs to find a way of restoring the public finances and promoting growth.
However, the paper believes this will be difficult unless inflation is checked and calls for the Bank of England to raise interest rates.
The Guardian believes the current economic climate suggests Mr Osborne's predecessor - Alistair Darling - had been right to argue for a slower programme to reduce the deficit.
The Daily Mirror says there has been an "inflation disaster" and accuses Mr Osborne of planning to hand out a "tax bribe" to try to distract attention.
But the Sun believes the changes to personal allowances will help ease the pain of spending cuts, and is excited about the prospect of help for motorists struggling with fuel bills.
The Daily Telegraph voices concerns about the extent of British commitment to the military campaign in Libya.
"Minister admits there is no Libya exit strategy" is its headline, seizing on remarks made by the armed forces minister, Nick Harvey.
And the Financial Times warns of trouble ahead for Portugal which could have a knock-on effect on the Euro.
The minority Socialist government may have to resign, triggering a snap election and an international financial rescue.
The Daily Star's front page reports that Libyan leader Col Gaddafi is hiding in a desert bunker "guarded by a squad of 40 armed virgins".
The bodyguards have "sworn an oath to die" protecting him, it reports.
And the Independent's back page concerns the controversial return of John Terry as England football captain.
It says the defender made a "defiant return" in which he said he should never have lost his job and urges any unhappy teammates to come forward.