7/7 inquests: Date announced for coroner's verdicts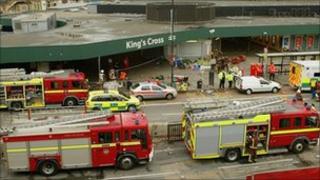 The inquest verdicts on the 7/7 London bombings are due to be announced on Friday 6 May by the coroner, Lady Justice Hallett.
The inquests, which concluded this month and were held at the Royal Courts of Justice in London, began in October.
A total of 309 witnesses gave evidence and a further 197 statements were read.
Four suicide bombers killed 52 people on Tube trains at Aldgate, Edgware Road and Russell Square, and a bus in Tavistock Square on 7 July, 2005.
Although Lady Justice Hallett had not indicated how long it would be before she returned her verdicts, it had been expected to be before the court rose for Easter on 20 April.
'Largest' investigation
The inquests generated 34,000 documents and the case was described by the coroner's officer, Det Ch Supt Doug McKenna, as "probably... the largest ever criminal investigation conducted by the Metropolitan Police".
Evidence given to the inquests revealed the confusion of the emergency services and transport controllers as the situation emerged.
The coroner heard there was a delay of nearly 30 minutes in getting firefighters into King's Cross station and that they waited, thinking there could be a chemical or biological attack below - despite travellers emerging showing no signs of this.
It also heard evidence of the investigation into the bomb plot and the bombers' backgrounds.
Details of what the security services knew about the bombers were heard, and on whether witnesses believed the attacks could have been prevented.