Newspaper review: Budget dominates front pages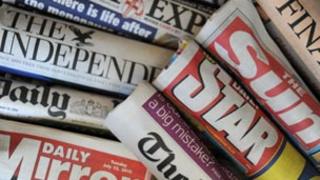 Extensive coverage of George Osborne's Budget, and its consequences for households across the UK, dominates Thursday's newspapers.
The Times feels the chancellor offered a well-constructed plan for recovery, although low growth rates and high oil prices present risks in the future.
The Daily Telegraph believes he conjured up a budget that went further than just making the best of a bad job.
And the Daily Mail calls it an "astute Budget for these terrible times".
For the Independent, the Budget was designed not to rock any more boats, but to foster an air of stability.
This is in sharp contrast to the rough austerity message that permeated last summer's emergency budget.
The Guardian acknowledges that Mr Osborne succeeded in producing some "clever politics".
However, the paper thinks those hoping for a convincing plan to manage the economy over the short- or long-term will be disappointed.
Several papers carry affectionate tributes to Dame Elizabeth Taylor, who died on Wednesday.
For the Times she was the first, and last, great Hollywood star, while the Daily Express refers to her as the "Queen of Hollywood".
The Sun said the world was "enthralled as her tempestuous romances saw her marry eight times".
In short, says the Daily Mirror, she defined Hollywood glamour in the movie world's most "glittering era".
Former cricketer Fred Titmus is another public figure whose death prompts tributes in Thursday's papers.
Writing in the Guardian, his former teammate Mike Selvey describes him as a remarkable cricketer, who "knew all the game's intricacies but liked to keep it simple".
Meanwhile, Frank Lampard's position in the England football team is questioned in a number of papers.
The Daily Mail and the Sun suggest that the Chelsea midfielder is in danger of being dropped.