Environment Agency beach quality details go online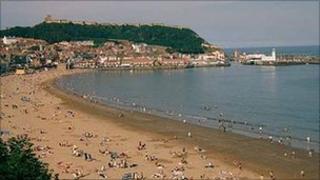 Information about the quality of beaches in England and Wales has been made available online by the Environment Agency.
Details have been provided on how safe the water is to swim in at 500 beaches.
The information includes maps, photos and details relating to any sewage or algae in the water.
The Environment Agency said the information was released "to help the public make more informed choices about the best locations to visit and enjoy".
It also said it had helped to direct some £8bn of water company investment to upgrade the country's sewage system and reduce pollution in the past two decades, leading to "huge improvements" in bathing water quality.
However, it admitted that there was still "more work to do to drive further improvements in water quality".
"Our new profiles provide the most comprehensive information yet on the cleanliness of bathing waters, helping the public to make more informed choices about the best locations to bathe," said Ed Mitchell of the Environment Agency.
He went on to say a "record number" of beaches reached the highest European standards in 2010 before adding: "But we are not complacent".
"The Environment Agency is working hard to tackle all sources of pollution, alongside beach users, local authorities, farmers and water companies," he said.
And Andy Cummins, of Cornwall-based campaign group Surfers Against Sewage, said the information being made available marks "a significant step forward in the provision of public information about important coastal environments".