Huge demand causes glitch in EuroMillions website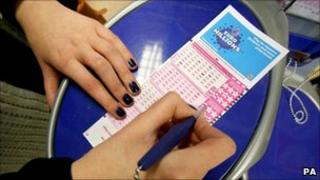 Camelot has said a technical problem caused by "unprecedented demand" meant some people were unable to buy tickets for Friday's £121m EuroMillions draw.
The lottery organiser apologised for the fault in its website which hit just before the 1930 GMT ticket deadline.
The winning numbers in the EuroMillions draw were 6, 12, 21, 27 and 33. The Lucky Star numbers were 3 and 7.
The two winners who shared £121,722,017 - a six-time rollover jackpot - came from Portugal and Belgium.
Camelot said in a statement that the problem, which left some website customers unable to update their card details or add funds to their accounts, only lasted for "a very short period of time".
"This was due to an issue with the response times from the online banking systems, which meant some transactions were unable to be completed," it said.
"Any players who already had funds in their account would have been unaffected. We would like to apologise for any inconvenience this may have caused."
Any tickets bought after 1930 GMT will be entered into next week's draw.
The current UK record lottery win stands at £113m, for a EuroMillions prize. The ticket-holder who scooped that prize in October asked to remain anonymous.