Newspaper review: Papers analyse unrest in Syria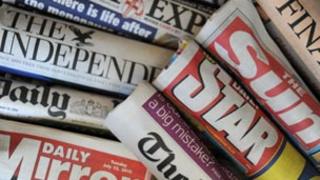 In the words of the Times, the growing unrest in Syria poses an unprecedented challenge to one of the Middle East's most repressive dictatorships.
Protesters are becoming increasingly bold in their attacks, the paper says.
The Daily Telegraph says President Bashar al-Assad is no longer facing an isolated, local revolt.
The Financial Times has the verdict of think tank the Crisis Group which warns that the Syrian leadership is rapidly approaching a defining moment.
Revenge warning
An interview with Justice Secretary Kenneth Clarke generates front page headlines for the Guardian.
In the paper's words, he has ratcheted up government pressure to depose Col Gaddafi by warning that the Libyan leader could stage another Lockerbie-style attack in revenge for Britain's role in enforcing the no-fly zone.
The paper also remarks Mr Clarke is extremely frank in admitting that the British government has little idea how long the conflict will take or how it will be resolved.
Field search
The investigation by Wiltshire Police into the murder of Sian O'Callaghan is the main story for both the Daily Mirror and the Sun.
Under the headline "field of secrets", the Sun pictures officers digging on farmland in Gloucestershire as part of a search for a second body.
Amid widespread speculation about the identity of that victim, the Daily Mail notes that after 24 hours of intense activity there was no indication of the name, or even the gender, of the missing person.
Car charge
The Independent's correspondent Daniel Howden describes his journey through a landscape devastated by the tsunami to the stricken Fukushima nuclear plant.
And it "suggested no let-up in the fight against a meltdown", he writes.
Meanwhile, the Daily Telegraph says the owners of diesel cars face higher annual parking permit charges in major cities because of pollution concerns.
It says Kensington and Chelsea council will impose a £15 levy next month, with other urban councils set to follow.