Newspaper review: Anti-cuts march dominates headlines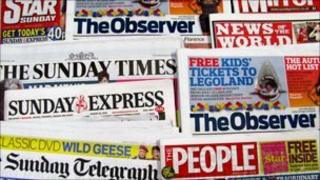 There is praise and condemnation following Saturday's march - and subsequent violence - against the government's public spending cuts.
The Observer says that the peaceful march delivered a "powerful message".
The paper - along with the Sunday Mirror and the Independent on Sunday - carry interviews with a handful of the protesters who want their voices heard.
One tells the Independent she's never been on a march before but is worried about the future of Sure Start centres.
Photos of rioting near the march also feature on many of the front pages.
"Ritzkrieg" is the Mail on Sunday's headline - on what it calls the "siege" of the Ritz hotel on Piccadilly.
West End retailers and property owners tell the Sunday Telegraph they had expected "tougher action" from police.
The Independent and Observer agree that Labour leader Ed Miliband took a risk by deciding to address the rally, but the latter says its peaceful nature means his decision won't backfire.
The Sunday Times understands that Britain and its allies are drawing up plans to arm the rebels in Libya, to "speed up the defeat" of Col Gaddafi.
But the paper says MI6 is warning that the move is dangerous because the Libyan opposition is "fractured".
In the Mirror Mark Austin, in Benghazi, says the rebels make up a "ragtag army", which isn't causing much damage.
The ITN correspondent says that even if the "novice army" was given weapons they would need weeks of training.
And there are stories of courage from Japan in some of the papers, two weeks after the earthquake and tsunami.
The Telegraph speaks to the emergency crew at the Fukushima nuclear plant, giving a picture of a team that is nervous, sometimes terrified but brave.
And there is hope - as the Independent reports, hundreds of miles of once warped and buckled motorways are open.
And engineers and labourers have worked with "astonishing speed" so that supplies can get to the homeless.