Anti-cuts march: Your comments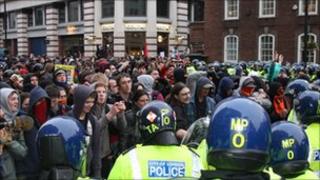 More than 250,000 people have attended a march and rally in central London against public spending cuts.
The main march organised by the Trades Union Congress passed off peacefully, although there were later clashes between police and protesters in Trafalgar Square.
BBC News website readers have been sending in their reaction and experiences from the day.
Your comments
I am a 21-year-old student from Goldsmiths and I was in Topshop when it was attacked. I just wanted to say how pathetic the protesters are and how bitter they are. These guys don't have a clue, making all those people scared and upset because they don't know a thing about money - they just want to rebel for the sake of it. Luke Hyland, London
I was on the march, which was entirely peaceful and goodnatured. At Hyde Park, Tony Robinson announced that the police had said that their estimate of numbers was between 400,000 and 500,000 and the back of the march was still at Waterloo Bridge. We left the park just after 1600 and as we walked along Piccadilly, we passed a large group of masked marchers wearing black, and with black and red banners, looking like some sort of throwback to the 1930s. Very well organised for anarchists, we joked, and were shocked to see riot police in the side streets on the north of Piccadilly. Then we got to the broken glass and paint. It was sickening that 100 or so dysfunctional, embittered fools could hijack a peaceful protest. They were not there to make a point but to destroy. Cat, Kent
I won't be there, as I am one of the many disabled people concerned by the impact of cuts in money and services but unable to cope with a march. I hope our 'virtual march' will be added to the numbers of protesters. T Williams, Sheffield
My godchildren aged between six and 14 are attending the marches with their mother. It shows that the people involved are genuine, concerned citizens protecting not only the welfare of themselves but the welfare of the future as well. These protesters are real and must be heard. Daniel Kent, Camberwell
While I agree in freedom of expression, the vicious attack on Topshop should be condemned - we live in turbulent times and I feel compelled to show immediate support for the proven business acumen of individuals such as Sir Philip Green and any advice they may be able to offer to help the UK out of this recession. Lisa Abbate, London
My husband and I were on the march. We were near the front of the protesters and although everyone was peaceful they were very angry. As we passed Downing Street people showed their frustration and anger by making noise and shouting toward No 10. The messages on the placards were deeply felt. "The (charity I cannot remember) saved my life", "what am I to do now". The simplest of all but it said it all was "Listen". Elaine Graham, Ledbury
As a Unite shop steward for local government workers at Coventry City Council, I marched in protest at the unjustified cuts by a so-called coalition government whose policies can only be described as neo-Thatcherism. I was impressed by the diverse variety of groups who took part; from firefighters to nurses, librarians, postal workers and so on, from big cities and rural towns around the country. There must have exceeded 500,000 as marchers were still arriving at Hyde Park as we were leaving to head for our coaches. Peter Skerrett, Coventry
I am 70. I had never been on a major protest before. I decided that I could not let yesterday pass without showing my solidarity with the anti-cuts protest. What an experience! For anyone who has never been on a march - don't miss out on the next. It was an experience I shall remember for the rest of my life. Dave Quigley, Isle of Wight