Lord Ashdown report to urge UK aid response improvement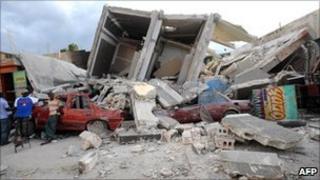 More lives could be saved if the UK response to global natural disasters was improved, a report by ex-Lib Dem leader Lord Ashdown has said.
He wants to improve local resilience in at-risk countries, and help make the leadership of international responses better and more "joined up".
The review followed concerns about the effectiveness of the UK response to the Haiti earthquake and Pakistan floods.
The number hit by disasters is expected to go from 250m a year to 375m by 2015.
Emergencies connected to climate change are expected to increase in number, and have more impact as the population increases and more people live in poor housing in cities.
Lord Ashdown said the international response to Pakistan's floods and Haiti's earthquake had been "disappointing, maybe even inadequate", adding that it had cost money, opportunities and "perhaps lives themselves".
He said the UK's Department for International Development (DfID) had a justifiably good reputation for its humanitarian work but that "being good is not going to be good enough given the challenges ahead".
He said Britain was "caught in a race between the growing size of the humanitarian challenge, and our ability to cope".
"It's not a race, bluntly, that we think we are currently winning. Enhancing the status quo will not be sufficient," he said at the launch of the report.
'Anticipating disasters'
Lord Ashdown's Humanitarian Emergency Response Review sets out how the UK might best deal with such crises in the future.
The aim of the review, commissioned by international development secretary Andrew Mitchell, was to look at ways to ensure value for money and impact on the ground.
It also looked at how DfID could help improve both its domestic and the international system, to make the most of public fund-raising efforts.
Among the recommendations is to improve the anticipation of events, and establish a global "risk register" to target help towards those countries that need to prepare for disasters.
Doing more to help nations become more resilient to disasters should be a core part of the government's work, it said. It also recommends that leadership, co-ordination and training all be improved.
"If resilience is the key of this then it [DfID] can't deal with humanitarian emergencies simply as a little sort of pimple, off-shoot of its job," Lord Ashdown told BBC News ahead of the launch on Monday.
"It has to take that into the core of what DfID does and it has, above all, to include that in its development policy."
He added that the department needed to "build new partnerships with China, with India, with the private sector, on innovation with NGOs and with its current partners, the US and the European Community".
"DfID needs to recognise that... what it does with its partners is more important than what it does by itself."
'Fragmented' system
Sir John Holmes, former emergency relief co-ordinator at the UN, said the organisation had become "much, much better at responding to disasters then we were".
He pointed to a "hugely fragmented" humanitarian system of "agencies, NGOs, the Red Cross and so on - so it takes a lot of co-ordination".
"Has the UN been perfect? Certainly not," he said. "Has it done a reasonable job in very difficult circumstances in Haiti and Pakistan? I think we did save lives, and lives are not lost in those emergency phases."
But Sir John welcomed the report, particularly the point about about "building up resilience of countries before disasters happen - that's absolutely crucial and we don't do enough of that".
The report also said there was an "accountability deficit" within humanitarian aid which meant the "needs of the vulnerable were often overlooked".
"The people who are on the receiving end of our assistance are rarely, if ever, consulted on what they need, or able to choose who helps them or how."
The report added that humanitarian agencies should be more accountable to donors - both governments and the public.
It concluded that the UK needed more than ever to develop existing partnerships with other nations, the UN and civil society groups to help deliver the best response. It should also work on new partnerships with emerging nations, non-governmental organisations (NGOs), the private sector, faith groups and the diasporas, it said.