Newspaper review: Papers impressed by rebel advance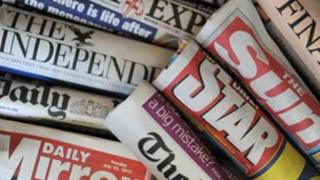 The papers are impressed by the rapid advance of rebel forces in Libya - in the words of the Financial Times, they have rediscovered their swagger.
The Daily Mail says the opposition are on the heels of Gaddafi loyalists like a whippet snapping at a badly - possibly fatally - wounded bear.
The Guardian says the conflict has been reshaped by the air strikes against Colonel Gaddafi's tanks and guns.
The Independent says the rebels' eyes are now turning to the Libyan capital.
Strike again
A number of papers say extremists who went on the rampage after the protest in London on Saturday against the government's spending cuts are planning to target the royal wedding.
According to the Daily Mail, they want to bring forward anti-capitalist demonstrations which have become a feature of the May Day holiday.
The Daily Telegraph reports that Scotland Yard is working urgently to identify the anarchists who caused the trouble.
It says police fear they will "divert resources" from security plans.
Medical trials
Several papers report that scientists believe women at high risk of breast cancer could routinely be given drugs to keep the disease at bay.
The Daily Mail says large international trials have shown that tamoxifen reduces the risk of the most common kind of breast cancer by about a third in more vulnerable women.
It is the lead for the Daily Express.
The paper says scientific trials should soon give the answer to questions about benefits and side-effects.
Money answer
The Daily Mirror has an interview with the man who faked his death in a canoe accident so his wife could cash in on their pension and insurance policies.
Recently freed from prison, John Darwin tells the paper it was the "logical" option to resolving his money problems.
The Sun carries the results of a survey which suggests Manchester United is the most loathed company in Britain.
Soccer rivalry and the success and power of the football club were blamed, the paper goes on to explain.