Rise in attacks on grassroots football referees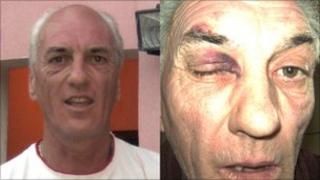 Peter Suter is one of the most experienced referees in Doncaster, with more than 37 years of taking charge of games.
He is one of about 27,000 people who drag themselves out of bed on freezing cold winter days.
What he does for a hobby keeps the national game going.
But Mr Suter is now considering hanging up his whistle after he was attacked following a six-a-side game in a Doncaster league.
'Humiliated and intimidated'
"I was talking to another referee after the game, when he said 'look out'. I turned around and was head-butted by one of the players. I'd already had to send off two players during the game. I felt dazed and concussed after the assault, and I couldn't sleep for several days.
"There were lots of people watching, other referees, spectators and kids. I was humiliated and intimidated. No referee deserves this sort of treatment."
The attack left Peter Suter with swelling and bruising to his face. The player was arrested and received a police caution.
Mr Suter has never refereed children's games, saying they are not worth the trouble, and is now considering retiring altogether:
"I've been a ref for 37 years and the respect towards officials is definitely getting worse. Players are learning bad habits and a lack of respect from watching high-level football on TV. For some of them, having a go at the ref is part of the game".
He is not the only amateur referee to face violence on the pitch. Assaults on grassroots referees by footballers in England have gone up by more than a quarter in the past year, according to figures seen exclusively by BBC Radio 5 live Breakfast.
The figures, which are used internally by the Football Association, show that by the start of February this season there had been 330 assaults on match officials, up from 260 at the same point last year.
Attacks on referees
The FA says it is concerned by the rise, and that the number of attacks on referees needs to be reduced. However, it insists its Respect campaign is working, with more new referees being recruited, and fewer dropping out of the game.
Information about assaults on referees is compiled by the 52 English County Football Associations that are affiliated to the FA, and covers games played by 14-year-olds upwards.
The FA divides assaults on referees into three main sections. These include causing serious bodily harm, causing or attempting to cause bodily harm and common assault.
The most frequent of these were common assaults, which went up from 205 incidents last year to 276.
There were 51 incidents of causing or attempting to cause bodily harm, up from 47 last year.
However, the rarest and most serious form of assault has gone down, from eight attacks last season to three this year.
Respect campaign
The Football Association began its Respect agenda at the start of the 2008/9 season.
It says it is concerned by the recent rise, but points out that these attacks are still rare considering the thousands of games that take place every week.
The FA also highlights the fact that the number of referees being retained and recruited has increased, and that referees' 'contentment levels' have gone up.
This season there are more than 27,000 referees in England, up 5% on last year.
Dermot Collins is the FA's Respect Manager and says, "At the moment these figures are up, and that's a concern. We need to be vigilant to make people aware of this problem, and make sure these numbers go down. We can't blame professional footballers because we don't see assaults in professional football. Grassroots football has to deal with this."
Premier League matches
However some in the game argue that if more was done to encourage players and managers at the top of the game to respect referees, officials at the grassroots would benefit.
Blackburn Rovers manager Steve Kean says the Respect agenda is important in protecting young referees and keeping them in the game: "We're going to have a lack of referees, that's something that has to be addressed from the top and probably be fed down into the grassroots."
But the FA is keen to emphasise that with around 35,000 games taking place every week, the proportion of referees being assaulted is tiny.
Ian Blanchard, the Senior National Game Referee Manager, says that even one assault a season is too many and they have a comprehensive support system in place for any referee who has been attacked.
For more Radio 5 live stories, please visit the Best Bits page.