Tributes paid after death of Essex man in Majorca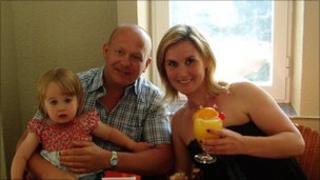 The family of a father killed in the Spanish holiday resort of Magaluf in Majorca have paid tribute to a "devoted family man".
Gary Vigors, 42, of Dovercourt, Harwich, Essex, was fatally injured during a disturbance outside a bar.
Thomas Swannell, 44, of Northampton, who was part of a cricket tour of the island, has been arrested in connection with the death on Saturday.
Mr Vigors' family said in a statement: "This loss has devastated our family."
Mr Vigors had lived with his partner Sarah Fulton in Essex for 13 years and they had a daughter, Nicole aged two.
'Well-loved partner'
The statement said: "Gary was an avid fisherman, a keen darts player, and lifelong Ipswich Football Club fan. Gary was a very popular local figure, with many friends, and a devoted family man.
"He was a well loved partner, father, son, son-in-law, brother and uncle and friend."
Mr Swannell was in Majorca with a group of supporters and players of Finedon Dolben Cricket Club from Northamptonshire.
Stewart Miller, chairman of the club, said in a statement: "A party of almost 60 Finedon Dolben Cricket Club members, including their families are currently on the annual pre-season cricket tour, held this year in Magaluf.
"We have been made aware that there has been a serious incident which has resulted in a fatality.
"The club is shocked and saddened to learn of this tragic incident and would like to convey our deepest sympathies to the bereaved. "
Rob Hughes, secretary of the Mallorca Cricket Club, said the club was due to play them but rang to cancel the games as a "mark of respect".