Newspaper review: Papers welcome grandparents law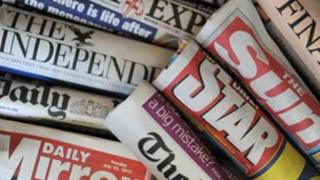 The Daily Telegraph says for the first time grandparents are to be given legal powers guaranteeing them access to their grandchildren if couples split.
The paper says Parenting Agreements will set out contact arrangements for grandparents after couples separate.
With the headline "The legal right to see your grandchild", the Daily Mail says the change is part of the biggest shake-up in family law for decades.
It says "at last, action to end the heartbreak of relatives cut off when their children divorce".
Shooting horror
"War on our streets" is the Daily Mirror headline about the shooting of a five-year-old girl by a gang in London.
The paper says Thusha Kamaleswaran is believed to be the youngest ever victim of gun crime in England.
The Sun says it so horrific, the country should stop and consider how a child on a family outing to a shop could be shot by gunmen riding bicycles.
The Daily Star says something is very wrong with our society when gun crime is visited on innocent children.
Rebel offensive
The Independent says the collapse in the rebel offensive in Libya over the past 48 hours has been "spectacular".
But it argues that arming them would be "risky in the extreme".
According to the Guardian, the conflict could face deadlock because both sides are running short of weapons and ammunition.
The Sun reports the five Libyan diplomats being expelled from Britain were judged to be a threat to dissidents in London.
The paper says the Foreign Office also wants to avoid any risk of a repeat of the shooting of Pc Yvonne Fletcher, who was killed by shots fired from the Libyan Embassy in London in 1984.
Funding cuts
Opinion is divided on the funding cuts announced by Arts Council England.
The Daily Telegraph acknowledges that it may be "the final curtain" for some of the country's leading independent theatres, but praises the council for making "sensible decisions".
The Times agrees that the pruning was "skilled" and says, "it wasn't pretty but it was not a disaster".
But the Guardian calls it "crude, unthinking vandalism" to the English cultural landscape".