UK retirement dreams going sour in Spain, charities say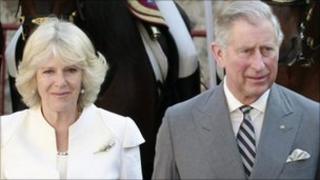 Prince Charles and the Duchess of Cornwall have met several hundred British volunteer charity workers in Spain on their first official trip to the country as a couple.
The meeting has highlighted the difficulties many expatriates now face and the rise in numbers of them being forced to pack up their homes in the sun and return home.
It is estimated that a million British passport holders spend all or part of the year in Spain, the vast majority on the eastern and southern coasts.
Many are pensioners who left the UK 20 or more years ago. But these days, people are leaving, not arriving in, Spain.
As the value of pensions has plummeted against the euro, charities like Age Concern and the Royal British Legion - who both operate across Spain - are providing a lifeline for an increasing number of elderly British citizens who have seen their retirement dreams go sour.
"There are a lot of people returning to the UK who have not needed to involve us," says Judy Arnold-Boakes, who is based on Mallorca and works for Age Concern.
"But we're repatriating an increasing number of people who are destitute. It's that serious. Their funds have run out. Basically - they've lived too long."
Food aid
On average, Ms Arnold-Boakes says those who have retired to the Spanish coast are living up to a decade longer than friends back home. And as their age increases, so do their needs.
"Imagine someone in their 80s, whose husband has died. They're on a very low income, can't afford to eat and live up a country track with no communications," says Harvey Tilley, of the British Legion.
Many British pensioners here are ex-servicemen and their families.
"When their health starts suffering, it's hard to access support. And by the time they come to us for help, it can take months to unpick all that," Mr Tilley says.
Age Concern says more and more people are now relying on their bi-monthly food parcels to get by - made up primarily through the donations of other British residents in Spain.
"It's just the basics, nothing fancy - rice, pasta and tins," explains volunteer Jacky Codd.
"People's pensions aren't stretching like they used to, so they can't afford it. But they're proud, and don't like to ask for help."
Collapsed businesses
The problems are compounded by the fact many British pensioners never learned Spanish and never formally registered as living here, making access to free healthcare and other local council services problematic.
So whether it is a lift to the supermarket, some money to cover medical costs - or arranging for someone in serious difficulty to be repatriated - the work of these British charities has become vital for many people.
And it is not just pensioners who are struggling. The recession in Spain - where more than 20% of the workforce is now unemployed - has had a big impact on expat businesses too.
"Quite a few people from Mallorca have gone back to the UK," says Jacky Codd.
"People in their 40s who came with families, and whose businesses have collapsed. There's been a lot of difficulty and it's growing all the time."