New Yemen warning to Britons by Foreign Office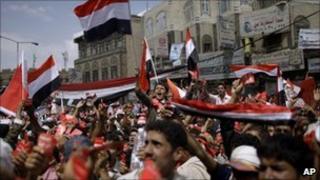 The UK has urged Britons to leave Yemen while commercial airlines are still flying as it warned of a possible "rapid deterioration in security".
Protests in recent weeks have brought president's Ali Abdullah Saleh's 32-year-old rule to the verge of collapse.
UK citizens have been advised against travel to Yemen since 4 March and urged to leave immediately since 12 March.
Updated Foreign Office travel advice says there is a "high possibility of violent demonstrations" on Friday.
Political reform
President Saleh has agreed to resign by January 2012, but the opposition and protesters are calling for his immediate departure.
The Foreign Office advice reads: "A rapid deterioration in the security situation is possible if negotiations between the president and the opposition breakdown.
"Routes in and out of Sanaa and the other major cities may be blocked and airports closed or inaccessible."
In a statement, the Foreign Office said it was also "highly unlikely" to be able provide consular assistance or evacuate citizens in the event of a further breakdown of law and order.
It added: "We urge all parties in Yemen to exercise the utmost restraint and take all steps necessary to defuse tension on the ground.
"We call on all parties to make urgent progress in implementing much needed political and economic reform. The government of Yemen must take urgent action to build trust with the opposition and with the protesters."