Newspaper review: Questions over Koussa's defection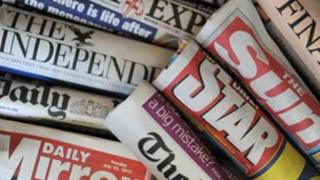 Papers, including the the Daily Mail ask why the UK is offering sanctuary to Libyan Foreign Minister Moussa Koussa after his surprise arrival in the country.
The paper says he's "up to his neck" in Lockerbie, Pc Yvonne Fletcher's death and arming the IRA, yet ministers hail the defection as a coup.
The Daily Mirror uses the headline Dancing with the Devil to sum up Britain's relationship with him.
The Sun insists there must be no deals to let the envoy off the hook.
Murky pasts
The Financial Times warns there must be no offers of up-front immunity to encourage Libyan regime members to defect, saying their pasts are simply too murky.
If justice has to wait, says the FT, it must not be swept aside.
The Times reports that relatives of victims of the Lockerbie bombing are waiting for answers from Mr Koussa.
Jim Swire, whose daughter Flora was killed in the attack, wants Mr Koussa to reveal how the atrocity was carried out and why.
April fool
There are a number of stories that prompt readers to question whether they put the fool in April Fools' Day.
The Daily Express has a picture of a zimmer skateboard for pensioners who want to take their grandchildren to school but are struggling to keep pace.
The Daily Telegraph says it has seen a secret memo which urges Labour Party members to celebrate Ed Miliband's wedding with street parties.
One supermarket tells the paper it has already commissioned bunting.
Trucking legend
Several papers publish obituaries of the haulier Edward Stobart.
The Times says the quiet king of the road built up a business whose title, logo and character became known in all British households and by all classes.
The Daily Telegraph said he insisted that his lorries should be kept in immaculate condition and his drivers should wear a shirt and tie.
For the Independent, he was the legend who brought the phenomenon of "Stobart spotting" to Britain's motorways.