Housing benefit cuts deter landlords from letting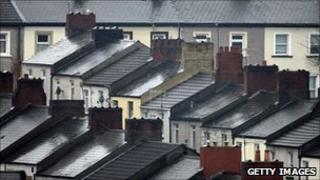 Some landlords are no longer willing to let properties to people on housing benefits as the government's new lower rates take effect, the BBC has learned.
The new measures would cut out £2.4bn from the housing bill and save the taxpayer an estimated £1bn by 2013/4.
The government says they do not expect many landlords to leave the housing benefit market.
But landlords say they could suffer if interest rates and mortgage payments go up as income from rent falls.
Colin Bryan, a Sheffield-based landlord, who rents 35 properties to benefit recipients told BBC Radio 4's World at One programme that "the sums no longer add up."
Mr Bryan believes that interest rates, currently 0.5%, are bound to go up in the next 18 months, increasing his mortgage repayments just as his income from tenants will be falling. Therefore he will no longer rent out any of his properties to housing benefit claimants.
"If we don't do something now, in 18 months time I am likely to be bankrupt because we can't afford to continue with the cuts that are coming," he said.
The refusal to rent properties to people on housing benefit is supported by results from a survey conducted by the National Landlords Association.
It found that 48% of landlords were planning to reduce the number of properties available for rent to housing benefit recipients over the next six months.
Eighty-six percent of respondents said they could not afford to cut their rents, while almost two-thirds said they could find non housing benefit tenants.
Pulling out
The changes are expected to create most problems in London, where the new rates will put severe pressure on thousands of households.
In Brent, in the north west of the city, landlords have also started pulling out.
Diane Overell from the Brent Private Tenants Rights Group, which helps people find accommodation with private landlords, says that in recent weeks they have seen around a 50% drop in the number of landlords willing to rent to housing benefit recipients.
"It's happened almost immediately," she told the World at One. "Over the last few weeks, a lot of the [leasing] agents we deal with have been telling us they will have to close down as they have no business, as the landlords are withdrawing."
The lack of available landlords is likely to add to the acute problems that some London areas already face.
Westminster council says that it alone has 5,000 households whose current rent is above the new cap. It expects to have to move at least 200 households to other parts of London this year as a result of the housing benefit changes.
One of London's poorest boroughs, Haringey, says that other councils have already been buying leases in its area, while Camden council says it will no longer attempt to place any housing benefit recipient in the south of the borough, an area of central London.
A spokesman for the Department for Work and Pensions told the BBC that the government does not expect to see many landlords leaving the Housing Benefit market.
"The feedback we have received from many local authorities suggests that landlords will reduce their rents," he added.