Reporter's death unpreventable, coroner concludes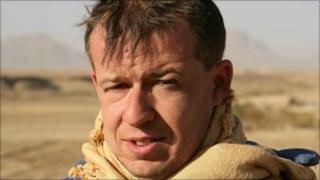 Nothing could have prevented a war reporter's death in a bomb blast in Afghanistan, a coroner has ruled.
Sunday Mirror defence correspondent Rupert Hamer was embedded with US Marines when he and a marine died in the explosion on January 9 2010.
An inquest in Trowbridge, Wiltshire, heard that he died despite wearing full standard issue body armour.
"This was not an act of war. It was a cold-blood killing," said David Ridley, Wiltshire and Swindon coroner.
Sunday Mirror photographer Philip Coburn was also wounded in the attack and had to have both legs amputated.
Mr Hamer and Mr Coburn were travelling in the Mine Resistant Ambush Protected vehicle (MRAP) at the rear of a Marine convoy when a 100lb IED exploded underneath it.
"It was day nine and we felt we hadn't started working yet," Mr Coburn said at the inquest. "We were going to spend around three weeks going between patrol bases. At the time we were in probably the safest vehicle we had ever been in in Afghanistan. We felt safe as houses on that run."
The blast was not strong enough to penetrate the vehicle's armour, but the sheer force killed Mr Hamer instantly. Mr Coburn had to have a leg amputated below the knee and his other leg was broken.
"I remember coming to; I couldn't see. I thought 'Oh my God, not us, not us.' I started calling out for help and the Marines said they had to secure the area first," Mr Coburn told the coroner.
He told the inquest that Marines told him later that the mine had been controlled by a wire and that "someone was watching" to detonate it.
There were reports that days later, US Marines killed four Taliban in the area, who they believed were behind the attack.
'Corporal' Hamer
Sunday Mirror editor Tina Weaver said Mr Hamer was affectionately known as Corporal Hamer in the office.
"He was a gregarious figure, a wonderful friend who was hugely popular with his colleagues."
Mr Hamer had worked at the Sunday Mirror for 12 years and had been its defence correspondent since 2004. He was married and had three children.
His widow, Helen, said after the inquest that she hoped the newspaper would learn lessons from her husband's death, despite the coroner's final, 'unavoidable' verdict.
"The Mirror's attitude to its journalists going into battle areas before he died was very lax," she said. "I hope they tighten up their procedures to minimise the dangers."
Eugene Duffy, the group managing editor of Mirror Group Newspapers, said that following the attack the company had made it official policy for reporters travelling to war zones to undergo five-day hostile environment training courses.