Planning reforms: Your views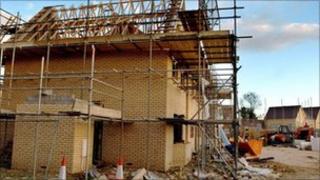 Communities in parts of England will be given more say over where new houses, shops and businesses should go in their neighbourhood.
Seventeen pilot areas will get £20,000 to draft plans, under plans announced by the government.
BBC News website readers have been sending in their comments.
YOUR COMMENTS
My experience (10 years as chairman of a planning committee) suggests to me that this might be chaotic. Unless there are some wise heads there is unlikely to be a strategic overview. Most people's interest is only stirred when they are threatened by some neighbouring proposals. I foresee more work for planning and judicial review lawyers (my profession). John Lloyd, Exeter
Yes, the planning laws should be drastically overhauled and made easier for people to decide what they want to do with their property. Many of the restrictions at present are ridiculous and make planning officers into little gods. I'm not so sure that the local people should be able to stop any alterations or building as only the objectors will be heard on average. Objections should only be within the law and not just for the sake of verbally stopping improvements for people. John Pape, Appleby, Cumbria
This is a charter for nimbies. Local planning committees are already open to the public, there are opportunities to register objections and this will give those who do not want to see reasonable development for personal reasons raise delays in planning applications. Georgina Lewis, Winsford, Cheshire
Basically the councils cannot now control the building of, for example, loft and side extensions. So they are opting out of the process. It's a very lazy attitude. There are already too many uncontrolled extensions which cause damage, costs problems and misery to neighbours. It's a free for all and vulnerable ordinary people will be oppressed by their greedy grabbing neighbours even more. Debs, London
The trouble with localism is that whilst it is a well intentioned attempt to put the tax paying public at the heart of decisions that relates to planning decisions in their area, I'm not sure it will work. My experience as a district councillor is that nearly all new development is highly unpopular with local people and it always will be. The majority of the voices raised simply refuse to accept that we need affordable homes for young people and public sector workers or that supermarkets are a far more efficient and cost effective way of selling food. Malcolm
The planning laws were enacted for a reason, and this appeal to populism is so typically short sighted. This country is already the most overpopulated in Europe and the pressure to build means that there will be even less control on bad design and inappropriate development, where the majority in a locality will be able to impose their will on the minority without any regard to forward long term planning. Robert Stevens, Chelmsford
Should this become law it will lead, at best, to local factions fighting decisions and, at worst, to total anarchy. Many lawyers are, I'm sure, looking forward to an increase in income if the government goes ahead with this. Beatrice, Leeds
My experience of over 30 years as a council officer is that "local people" are only significantly engaged to oppose development. The idea that giving neighbours the power to decide on development will lead to a lifting of the planning "obstacle to economic growth" is laughable. Are they going to be able to waive restrictions on pollution, add motorway links to facilitate transport of goods on heavy lorries, agree to a fourth airport for London? Bernard Crofton, Suffolk