Newspaper review: Papers react to NI police death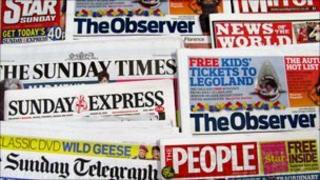 The papers react to the killing of 25-year-old Northern Ireland Pc Ronan Kerr in a car bomb explosion in Omagh.
"Brutal" and "unacceptable" is how SDLP chairman Joe Byrne describes the killing in the Independent on Sunday.
Democratic Unionist MP Jeffrey Donaldson tells the Sunday Telegraph that the officer had been targeted because he was Catholic.
The News of the World says hundreds of half-marathon runners had passed yards from the scene in the hour before.
'Humiliating climbdown'
The Sunday Times predicts that Health Secretary Andrew Lansley will be "side-lined" in promoting NHS changes.
It says Downing Street has become concerned by Mr Lansley's apparent inability to "sell" the reforms to the public and health professionals.
The Independent on Sunday says David Cameron will announce a three-month "pause" in which to reassure doubters.
The paper describes the development as "another humiliating climbdown" for the prime minister.
Fit for work
The government's drive to get more people back into the workplace is highlighted by the Sunday Express.
It reports that half-a-million people who currently claim sickness benefits are likely to be found fit for work.
In the Sunday Telegraph, Employment Minister Chris Grayling rails against what he calls Britain's "endemic" incapacity benefit culture.
He says it is a problem which has left millions of people "stranded on the margins of society".
Celebrity backers
The Sunday Telegraph reports that pro-AV voting system campaign leaflets in London used a picture of black poet Benjamin Zephaniah - but he was removed from those in the Home Counties.
Mr Zephaniah was apparently replaced by an image of white actor Tony Robinson.
However, in the News of the World a spokesman for the Yes to AV campaign dismisses any suggestions of racism.
The spokesman said the campaign simply wanted to feature as many of its celebrity backers as it could.