Newspaper review: Papers refer to unwelcome memories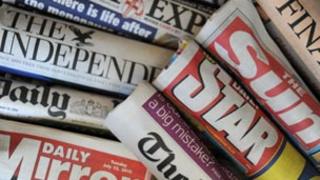 The murder of Constable Ronan Kerr in Omagh on Saturday, blamed on dissident republicans, brings unwelcome memories.
For the Guardian, the booby-trap bomb killing "feels like a horror risen from the grave, a brutality erupting out of a dark and almost forgotten past".
"Surely such violence - and in Omagh of all places - was now a thing of the past?" it asks, referring to the bomb in the town which killed 29 in 1998.
The Times says it seemed like "the bad old days".
Hard-won progress
There is broad agreement after the death of Constable Ronan Kerr that the warning signs were there.
The Daily Telegraph notes that the risk of an attack on mainland Britain by dissidents was raised from "moderate" to "substantial" last September.
However, the Independent says people throughout Northern Ireland are absolutely determined that there will be no return to "the bad old days".
And the hard-won progress of recent years will not be reversed by murder.
Maternity warning
Government moves to reassure critics of its NHS overhaul in England is the lead for the Times and Financial Times.
The Times says David Cameron is to relaunch the reforms as he scrambles to prevent the coalition from splitting.
The FT says he is to take over selling the reforms, while ensuring Lib Dem leader Nick Clegg remains tied in.
For its main story, the Independent highlights a warning by experts that the safety of maternity care in Britain's hospitals is under threat.
Retirement home
There is a happy ending to the plight of Britain's last circus elephant who has been featured in a number of papers over the past few weeks.
The Daily Mail took up the cause of 59-year-old Anne after secret footage emerged showing her groom beating her and stabbing her with a pitchfork.
A campaign by the Mail and the Sun to rehouse her came to fruition on Sunday.
Animal lovers will be delighted to see pictures of her arriving at Longleat Safari Park for her retirement.