Police seek six after unrest at anti-cuts demonstration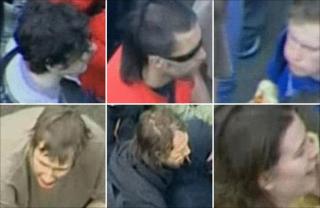 Police investigating the disorder that broke out alongside last month's anti-cuts march have released images of six more people they want to identify.
The stills are taken from CCTV footage showing people removing an outer layer of black clothing before changing into different coloured garments.
Police believe some dressed all in black and covered their faces to avoid being spotted in the London crowds.
Over the weekend, police released images of another 18 people.
'Appalling acts'
The Metropolitan Police said the TUC anti-spending cuts protest on 26 March was mostly peaceful.
However, one group attacked police, broke windows and daubed banks and shops in the West End with paint.
So far, 149 people have been charged, most of them for aggravated trespass after a campaign group staged a sit-in at a luxury store on Piccadilly. In all, 201 arrests were made.
Police launched an investigation, Operation Brontide, and have now started to release images from various sources, including CCTV cameras.
Det Ch Supt Matthew Horne said: "We are working tirelessly to identify those responsible for the appalling acts of criminal behaviour on the day of the TUC march.
"The video footage and related photographs released today clearly show the lengths that individuals will go to in order to hide their identities; they are sought in connection with conspiring with others to cause criminal damage.
"The vast majority of people who came to London to protest did so peacefully and worked with the event organisers and police officers. Others however, abused their right to protest and worked together to cause violence, damage and disorder."