Q&A: Incapacity benefits crackdown explained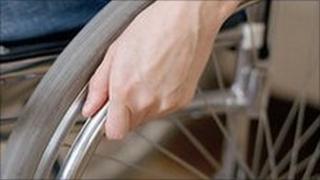 Thousands of people on incapacity benefit are receiving letters asking them to be reassessed on their ability to work this week - but why is it happening and what will it mean for those affected?
Why is the government sending out letters?
The new assessments are part of government plans to reduce the number of long-term claimants in a rolling programme through to 2014.
The drive is part of its efforts to drive down the welfare bill by ensuring all those able to work are looking for employment.
How many people will receive letters?
Letters are being sent to 1.5m people on incapacity benefit, asking them to submit to reassessments.
By the end of the week 7,000 people will have been contacted, rising to 10,000 a week by the end of April. The first assessments are scheduled for June.
Why is it happening now?
The move follows the publication of final results from a pilot scheme in Burnley and Aberdeen.
Figures published by the Department for Work and Pensions in February found some 29% were deemed fit to work immediately while 39% could consider working with the right help.
What will happen as a result of the assessments?
Under the initiative, once claimants have had a work capability assessment they will be placed in one of three groups.
Those immediately fit for work will be put on jobseeker's allowance.
Those deemed unable to work because of sickness or disability will be entitled to the highest rate of employment support allowance and will not be expected to look for work.
A middle section - those who have been unemployed long-term but judged capable of doing some form of work - will be placed in a "work-related activity group".
They will be expected to take steps to prepare themselves for a return to employment.
What do charities say?
The fitness-to-work test was changed after criticism from mental-health campaigners and an independent review of the system in November 2010.
Charities expressed concern that it focused unduly on an individual's physical capacity and ignored other factors such as mental-health issues.
But Richard Hawkes, chief executive of disability charity Scope, told the BBC that changes made since then had not gone far enough.
"This test is a very blunt medical questionnaire where you sit across the room from somebody you've never met before," he said.
"It just doesn't take into consideration things like fluctuating impairments, or things like ME [chronic fatigue syndrome] where you might not be able to do things over a sustained period of time."
A Disability Alliance spokesman said the move to get people off incapacity benefits would result in higher levels of disability poverty.
He said test decisions were overturned in 40% of appeals in 2009/10. The cost to government using the "failing test" was likely to "escalate massively" at a time of national budget restraint, he added.
What does the government say?
Work and Pensions minister Chris Grayling said: "My message to people who are worried about this process is that this is all about helping those who can return to work.
"It's not about forcing people to return to work, but unless we do the assessments, unless we identify who has that potential, we'll never be able to offer that help."
He said the assessments would be only one factor taken into account when determining fitness to work, and even greater emphasis would be placed on expert evidence from a person's GP or consultant.