More RAF Tornados for Libya mission, David Cameron says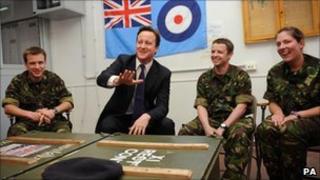 Four more British warplanes are being deployed to southern Italy to join the assault on pro-Gaddafi forces in Libya, the prime minister has said.
Speaking on a visit to Gioia del Colle air base, David Cameron said the Tornados would join 18 RAF jets there.
He told crews they did an "incredible job" and had saved civilian lives.
Meanwhile, William Hague says Libyan politicians fleeing to the UK who break "definitively" from the Gaddafi regime could have restrictions on them lifted.
Gioia del Colle has been home to 10 RAF Typhoons and eight Tornados over the last two weeks and more than 70 sorties have been launched as part of the Nato-led mission.
Mr Cameron spent about two hours meeting pilots and ground crew and was briefed on the progress of the operations to patrol the UN no-fly zone and attack pro-Gaddafi forces threatening civilians.
He said he wanted to "say thank you and well done and a heartfelt thanks from the British public to the brave Typhoon and Tornado pilots and their crews, who have done an incredible job in a short period of time to save literally thousands of lives".
He added: "The whole country should be proud of what they have done".
Mr Cameron said: "They have responded incredibly quickly. They have flown many sorties. They have been extremely successful in holding back Gaddafi's forces."
Earlier, in the Commons, Mr Hague said last week's departure of ex-Libyan foreign minister Moussa Koussa to the UK "weakened" the regime.
He also told MPs Britain was considering plans to supply Libya's rebel forces with non-lethal equipment.
He said the UK was supplying telecommunications equipment to Libya's opposition party, the Transitional National Council (TNC), but was not arming rebel forces.
'New circumstances'
On those fleeing Col Muammar Gaddafi's regime, Mr Hague said: "In the case of anyone currently sanctioned by the EU and UN who breaks definitively from the regime, we will discuss with our partners the merit of removing the restrictions that currently apply to them."
He said sanctions were designed to change behaviour and it was right they were adjusted when new circumstances arose.
But he said he wanted to make it clear any changes would not constitute any form of immunity from prosecution.
Mr Koussa had been refused formal leave to enter the UK but granted temporary admission when he flew in on Wednesday, Mr Hague said.
The foreign secretary said the government would encourage him to co-operate fully with all requests made by the police and other investigating authorities, stemming from Libya's past sponsorship of terrorism.
Those fleeing the regime would be treated with respect and in accordance with our laws, and immigration issues would be dealt with on their merits, he added.
Mr Koussa's case would be discussed in Europe this week, he said.
A total of 34 nations are now involved in operations in Libya in support of the UN Security Council resolution to protect civilians in the north African country.
Mr Hague said 701 air sorties and 276 strike sorties had been conducted since Thursday, with Libya's air defence capability "all but eliminated".
"We are destroying key regime military assets including main battle tanks and mobile artillery. The arms embargo is being enforced.
"We have prevented a huge loss of life and a humanitarian catastrophe."
He said only a "genuine ceasefire" would end the air strikes and the world was "united" in believing Gaddafi's regime had lost all legitimacy.