Newspaper review: Fighting talk over armed forces cuts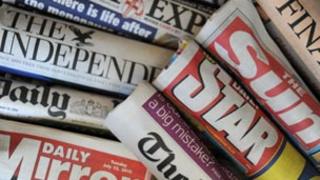 Details of the first round of job losses in the armed forces have provoked fighting talk in the papers.
The Sun asks the government "Don't you know there are two bloody wars on?" and says cutting numbers whilst committing troops to more fighting is "bizarre".
"Sheer folly" is the verdict of the Daily Mail, which accuses ministers of "inept timing".
And the Daily Mirror says PM David Cameron is taking a "reckless gamble with the security of Britain".
Severe pains
The health secretary's announcement of a pause in plans to overhaul the NHS in England received a mixed diagnosis.
The Guardian says Andrew Lansley's proposals were "rushed into casualty" complaining of severe pains.
A Matt cartoon in the Daily Telegraph features a beagle and a rabbit outside a hospital carrying a sign reading "Stop testing the NHS on humans".
But the Independent says there's "no shame" in a re-think and the Times says "a period of reflection" is welcome.
Colonial shame
Elsewhere, the Daily Mail says Pradaxa, a drug hailed as the "biggest step forward in blood-thinning treatments for 50 years", could soon be available.
The Independent says the UN air attack on a military base in Ivory Coast could "tip the balance" in the conflict.
New documents relating to the Mau Mau rebellion in Kenya reveal efforts to cover up one of the darkest episodes in UK colonial history, the Times reports.
And the Guardian has details of a rally - in support of public spending cuts.
Ambridge Extra
The FA's decision to charge Wayne Rooney for swearing on camera during a live match got a mixed response.
The Times thinks a two-match ban is the minimum he should serve, but the Daily Mirror says risking the outcome of the Premier League title race is "absurd".
A spin-off series of the Archers on BBC Radio Four Extra may complicate the main show, the Independent fears.
And the Daily Express reports claims Martin Luther King may have written a draft of his "I have a dream" speech in Liverpool.