Constables 'should pay for a police licence'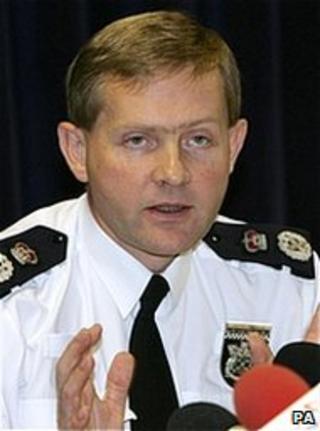 A report for the Home Office says police officers should have to pay for an annual licence to do their job.
Peter Neyroud, former chief constable of Thames Valley, said there should be a national professional body for policing, overseeing standards.
Under his proposals, Mr Neyroud suggests constables pay a £50 yearly licence and chief constables £250.
Ministers are putting the report out to consultation before deciding whether to adopt the recommendations.
The former chief constable said in his report that the proposals were designed to bring policing into line with other professions, such as medicine, by ensuring ongoing annual licensing and minimum standards.
He said there should be an entrance level qualification to become a police constable and the proposed professional body would have a royal charter, making it a single legal organisation with public responsibilities.
The national police college at Bramshill, Hampshire, would become part of a university under the plans.
Mr Neyroud said that in time the new body could develop into an organisation similar to the General Medical Council, which has legal powers to act as a watchdog over doctors.
The Association of Chief Police Officers (Acpo), which represents the leadership of the 43 regional forces, would be merged into the new body, said Mr Neyroud, ending its status as a limited company.
'Radical change'
In the foreword to his report, Mr Neyroud said: "This is a moment for radical change in the approach to police leadership and training."
The current approach was largely designed in the 1940s to meet the challenges of post-war Britain.
"Policing in the 21st Century presents very tough and very different demands on the police," Mr Neyroud said.
He said that his proposals would simplify policing and both strengthen accountability and raise standards.
"A single such body will be able to simplify the burgeoning national standards for policing, picking the really important ones and jettisoning what has become a welter of unnecessary and bureaucratic guidance," he said.
"It will be the public's professional guardian of the quality of policing."
He added: "England and Wales was the first in building the modern police service in 1829, with this approach it will be the first again in building the new police professionalism of the 21st Century."
Ministers and officials are understood to be neutral and "open-minded" on the proposals, partly because of a fear that a new body could add to red tape, rather than remove it.
But Policing Minister Nick Herbert said: "In challenging times we need strong and focused leadership at every level in the police to ensure all the service makes the best use of all its resources.
"I am grateful to Peter Neyroud for producing this report and I would like both the public and the police to give us their views on his recommendations. I will give them careful consideration before final decisions are made."
Sir Hugh Orde, president of Acpo, has already argued in favour of reforming the organisation.
"We note the review places Acpo as the "head and heart" of a professional body. As leaders of the service we recognise such a body must be open to all who deliver policing and its inspiration shared across all ranks and grades."
But Simon Reed, vice chairman of the Police Federation, which represents rank-and-file officers, said: "Within the space of a few weeks police officers have been confronted with the Winsor Review of pay and conditions, Hutton's report on pensions and now this.
"If ever there was an urgent need for considered and structured reform through an open and public Royal Commission on Policing, it is now."