Newspaper review: Nick Clegg accused of 'hypocrisy'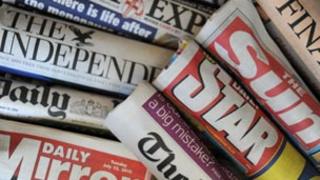 Plans outlined by the deputy prime minister to aid social mobility are discussed widely in the papers.
Nick Clegg's stated aim to stop wealthy families securing internships for their children are patronising and fatuous", according to the Daily Telegraph."
The Times says he was undermined when it emerged that his father helped get him a gap year post with a bank.
"That's rich" says the Daily Mirror, which goes on: "Daddy's pal got Nick first job in banking."
The Guardian and the Independent lead with the arrest of the News of the World's chief reporter and a former senior executive at the newspaper.
The journalists were arrested on suspicion of conspiring to intercept mobile phone messages.
The Indy says it was a turbulent day for Rupert Murdoch's News International corporation.
It has always insisted that phone hacking was limited to a single rogue reporter - the paper's royal editor.
The Daily Express is angry that, at a time of belt-tightening, the government has announced an extra £650m for school projects in Pakistan.
For any government to favour the citizens of other nations over its own, it feels, is perverse.
The Sun agrees and says the money would be better spent on UK armed forces.
"Is it right that hard-hit British taxpayers should fill Pakistan's coffers while our own defences are cut to the bone?", it asks.
New research suggests that having two daughters is the best way for parents to enjoy a quiet life.
In a finding that will surprise many, says the Daily Mail, researchers concluded that two girls are unlikely to fight, rarely annoy their parents and tend not to irritate each other.
The second most appealing combination was one girl and one boy.
The worst combination, according to the survey of more than 2,000 parents, is four girls.