Ian Tomlinson G20 heart attack finding rejected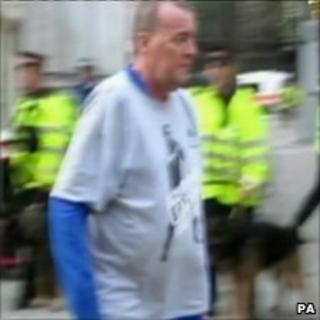 The only "realistic possibility" for newspaper seller Ian Tomlinson's death at the London G20 protests was internal bleeding, a pathologist has said.
Dr Nat Cary was one of four experts to examine the body of the 47-year-old, who died in April 2009 minutes after being pushed over by a police officer.
Dr Freddy Patel has suggested a heart attack was the cause of death.
But Dr Cary said his post-mortem concluded the shove brought on a "blunt force trauma" injury to the abdomen.
Mr Tomlinson, who was not part of the protests, was on his way home when he came across a police line in the City of London on 1 April 2009.
Pc Simon Harwood, part of the Metropolitan Police's specialist Territorial Support Group (TSG), was caught on film hitting the newspaper seller on the thigh with a baton and then pushing him to the ground.
The father-of-nine got back to his feet but collapsed and died nearby minutes later.
Four post-mortem examinations were carried out on Mr Tomlinson's body and Dr Cary's was on behalf of the Independent Police Complaints Commission and the Tomlinson family.
Dr Patel carried out the first post-mortem examination and concluded Mr Tomlinson had died of natural causes, while the other three pathologists concluded the death was due to internal bleeding.
'Expert support'
In answer to a question put in cross-examination by Matthew Ryder QC, for the Tomlinson family, Dr Cary said: "This is a case where there is really only one realistic possibility... which is internal bleeding.
"That is not just on the pathological findings. That is actually looking at what happened to Mr Tomlinson over the course of his final few minutes."
He added his opinion was supported by evidence from heart expert Professor Kevin Channer, who was asked by the inquest to analyse chart readings from a defibrillator used on Mr Tomlinson by paramedics.
Last Wednesday, Dr Patel told the inquest there was a "compelling association" between Mr Tomlinson being pushed over by an officer and his collapse shortly after.
But he said he could not establish that the incident had been the actual cause of death.
The inquest heard Dr Patel was suspended by the General Medical Council for failings in his post-mortem examinations in other cases for three months in 2010 and is currently serving a further four-month suspension.
The jury also heard Mr Tomlinson was five times over the drink-drive limit for alcohol at the time of his death.
Dr Patel said the tests found Mr Tomlinson had 400 milligrams of alcohol per 100 millilitres of blood, the legal limit for driving being 80.
The inquest, which is sitting at the International Dispute Resolution Centre in Fleet Street, is examining the actions of police, the pathologist and independent investigators.
The inquest continues.