Nigerian ex-governor James Ibori remanded in custody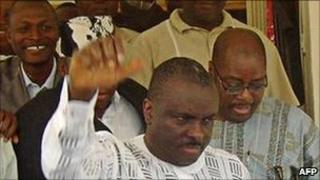 An influential Nigerian politician has been remanded in custody after appearing in court in London charged with money laundering and fraud.
James Ibori, former governor of the oil-rich Delta state, was extradited from Dubai to face 25 charges.
The 52-year-old was arrested in Dubai last May and lost an appeal against his extradition. He denies the allegations.
Mr Ibori is a senior figure in Nigeria's governing People's Democratic Party (PDP).
He appeared at the City of Westminster Magistrates' Court and will next appear at Southwark Crown Court on 28 April.
Mr Ibori arrived at London's Heathrow Airport on Friday, accompanied by officers from the Metropolitan Police's extradition unit.
He played a key role in the 2007 presidential election victory of Umaru Yar'Adua, who died last year.
Under Nigeria's federal system, state governors enjoy wide powers.
Those running oil-rich states have budgets larger than those of some African countries.
They enjoy immunity from prosecution while in power, but several have faced corruption charges since leaving office after the last election in 2007.
Nigerians are going to the polls on Saturday for presidential elections.