Newspaper review: Papers concerned over Libya mission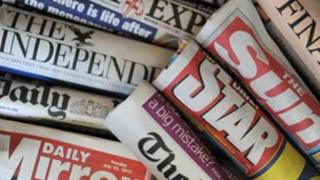 A picture of open coffins in Misrata dominates the Independent's front page, with an article suggesting "disarray" in the Nato mission in Libya.
The Times says Nato's failure to agree to send more planes to target Colonel Gaddafi's forces is a "disgrace".
The Daily Mail is disturbed by language from Britain, France and the US that points to a desire for regime change.
The Daily Mirror calls for Parliament to be recalled - it says MPs must be able to quiz the prime minister.
Female succession
"Ninety-one and counting" is the front page headline in the Guardian.
The paper says Scotland Yard accepted in court for the first time the extent of the phone-hacking scandal involving the News of the World.
The Daily Telegraph says Prince William and Kate Middleton's first born could become monarch even if it is a girl.
This would be under plans, backed by Deputy PM Nick Clegg, to scrap the principle of male primogeniture, the Telegraph reports on its front page.
Coins and mugs
Almost all the papers have detailed maps of the route of the royal wedding after Clarence House released the precise timings for the day.
The Sun notes that Kate Middleton will have just nine minutes to be driven from her hotel to Westminster Abbey.
The Daily Express quotes research that suggests retailers have understocked on royal wedding memorabilia.
It says a third of Britons will spend about £60 each on commemorative items, with coins and mugs the most popular.
Modest statement
The Sun, Daily Mail and Daily Mirror carry the story of Pte Lee Stephens who leaped out of his armoured car in Afghanistan to capture a Taliban fighter fleeing on a motorbike.
The British soldier, a member of the Mercian Regiment, was unarmed when he grabbed the enemy around the neck and wrestled him to the ground.
Pte Stephens said he was "just doing his job".
A modest statement described by the Sun as the "hallmark" of British troops.