Newspaper review: Papers mark their AV card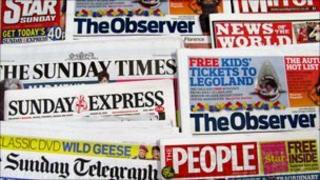 Many of the papers are now showing their hands on the question of the alternative vote.
The debate over the voting system, in the words of the Observer, is growing increasingly acrimonious.
The People says campaigners on both sides of the argument have made the choice about as interesting as "which thumb to twiddle".
It decides that while AV falls short of the electoral jackpot, it is a prize that must not be allowed to slip away.
Cast-off votes
Under the headline "We're not AVing it", the News of the World denounces the alternative vote as "madness".
The paper says that just when Britain needs the best, it risks getting a "second-best system that depends on second-best candidates and a pile of cast-off votes".
The Sunday Mirror goes with the same headline.
The Mirror publishes an opinion poll of 2,000 people that suggests a 6% surge against AV in the past month.
Brutal crackdown
The Independent describes the city of Misrata as Libya's Stalingrad, with vengeful and often indiscriminate attacks killing and maiming civilians.
The Sunday Times gives details of rapes on women in a number of towns and cities by pro-Gaddafi forces.
The Observer publishes the story of a man in Bahrain who describes the brutal crackdown on Shia pro-democracy protesters by security forces.
The paper warns Britain not to turn a blind eye to Bahrain.
Dress rehearsal
The Middle East is, says the Sunday Telegraph, the preferred honeymoon spot for Prince William and Kate Middleton.
They are believed to have booked a tour of southern Jordan where Miss Middleton spent some of her early years, it says.
The Sunday Express reports that Kate Middleton has taken part in a dress rehearsal at Westminster Abbey.
All members of the wedding party took part except Prince William, the paper says, as he was on duty with the RAF in north Wales.