Injuries 'not cause' of Dubai tourist Lee Brown death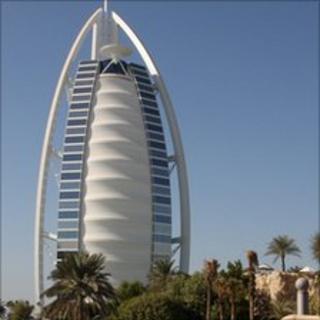 A UK tourist who died in Dubai police custody hit his head on a wall while resisting officers but this did not cause his death, local officials say.
Lee Brown, 39, was arrested at a hotel after being accused of trying to throw a female housekeeper off a balcony.
The Londoner died on 12 April. It has been claimed officers assaulted him.
Dubai's attorney general says a forensic report shows Mr Brown only had "minor" injuries and that post-mortem tests show he choked on his own vomit.
Meanwhile, prosecutors in the Gulf emirate have met Mr Brown's family, from Dagenham, east London, and released his body and personal possessions to them.
Extremely violent
The UK Foreign Office and human rights campaigners have demanded a full investigation into the death in a cell at Bur Dubai police station.
In a statement, Dubai Attorney General Issam Al Humaidan said his office took seriously any allegations of abuse, adding that investigations into the death were still ongoing.
Mr Humaidan said police had described how Mr Brown was in a "hysterical temper" after he was held for allegedly assaulting and verbally abusing the staff member at the luxury Burj Al Arab Hotel on 6 April.
He said the maintenance firm owner kept beating a metal mesh barrier in the police car as he was driven away after his arrest.
Mr Humaidan said that as police officers escorted Mr Brown to a building for questioning he was "extremely violent and caused damage to public property. He banged his head against the wall and suffered a nose injury before he fell face down".
He added: "Forensic analysis found irregular bruising on the left side of the forehead, as well as bruising on the nose and on the inner arm.
"The nature of the injuries mentioned in the report indicates blunt force trauma and friction burns caused by solid bodies or objects - some with coarse surfaces - which may have been caused by frequent falls to the ground....
"All injuries are considered minor and are not known to cause death."