Newspaper review: Pros and cons of AV system debated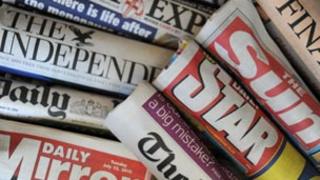 The pros and cons of changing the voting system for Westminster elections continue to preoccupy the papers.
The Guardian highlights an ICM poll which suggests 44% of people are against the alternative voting system and 33% in favour.
But the chairman of the Labour Yes campaign, Ben Bradshaw, tells the paper he is still confident they can win.
The Daily Mirror reckons the row over electoral reform is baffling to most people outside Westminster.
'Hand-washing'
"The shock to the system will reverberate around the world."
That is the Daily Telegraph's view of the downgrading of the USA's long-term debt outlook by the credit agency, Standard & Poor.
The Independent accuses Europe of "shutting its eyes" to the challenge of migrants fleeing North Africa.
It is a repellent exercise in hand-washing, it says, singling out France for blocking trains of Tunisians from crossing the Italian border.
April showers
White children in care are three times more likely to be adopted than black youngsters, according to the Times.
The paper says an unofficial racial apartheid is operating in parts of the adoption system.
The Daily Mail asks: "What's happened to April's showers?"
But an Environment Agency spokesman says we have had 82% of expected rainfall the past six months. The Met Office added: "If you live in Scotland, the rain's been hammering down."
Rice allowance
Several papers report that 40 workers at an Orange call centre in Darlington were told they could keep their jobs if they relocated to the Philippines.
A staff member told the Sun about the transfer package: "It's less than £200 a month, with a rice and laundry allowance".
A spokesman for the phone company told the Sun the staff have now all been offered other work in the UK.
"This was a human resources error for which we apologise," he said.