Solo ocean rower Roz Savage towed to safety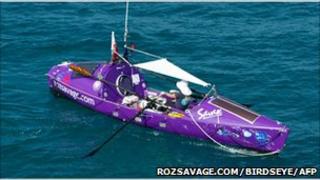 A British rower attempting to become the first woman to cross three oceans has been towed back to Australia on the final leg of her adventure.
Roz Savage, 43, from Cheshire, was attempting a 4,000-mile (6,400km) solo crossing of the Indian Ocean when she ran into trouble a fortnight in.
A fishing boat took her to Leeman in Western Australia so she could repair a pump on her water desalination machine.
Ms Savage, who has crossed the Atlantic and Pacific, hopes to resume in a week.
Marine pollution
Writing on her online blog, she said: "We are in a race against time. The weather is good for a departure any day between tomorrow and Thursday of the following week. After that, not so sure. So we are under pressure."
The adventurer, originally from Northwich, ran into trouble when a storm swamped a locker holding the water machine, which is used to make sea water drinkable.
She decided to return to land before she got too far out to sea, as without the device she would have had to spend two hours every day pumping water by hand.
The environmental campaigner, who is raising awareness about marine pollution, set out on the four-month journey from Fremantle, Western Australia, on 13 April.
Her 7m (23ft) boat Sedna, named after the Inuit goddess of the ocean, has a tiny cabin in which to seek respite and eat between three four-hour stints of rowing a day.
She took a six-month supply of fruit and nut bars and freeze-dried meals with her, and grew bean sprouts in a small pot.
The London-based Ocean Rowing Society, a group that tracks rowing feats around the world, said Ms Savage will be the first woman to row across three oceans if she is successful.