Royal wedding: Syrian ambassador on guest list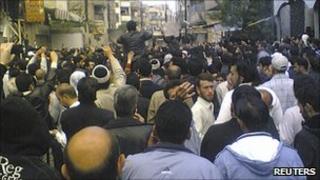 The Foreign Office and St James's Palace have confirmed that the Syrian ambassador to London has been invited to the Royal wedding on Friday.
It comes after Dr Sami Khiyami was called to the Foreign Office to be told Britain regarded the use of force against demonstrators "unacceptable".
Shadow defence minister Kevan Jones expressed concern.
A Palace spokesman said ambassadors of countries with which Britain had normal diplomatic relations were invited.
He said: "We take constant advice from the Foreign Office and it is not for the Palace to determine those countries with which we enjoy diplomatic relations."
But Mr Jones told the Times newspaper: "We could have the horrific spectre of killing on the streets of Syria while the Syrian ambassador is in Westminster Abbey for the royal wedding."
On Wednesday, the UK government summoned Syria's ambassador to reiterate its call for the violent crackdown on anti-government protesters there to stop.
Hundreds of people are reported to have been killed since pro-democracy protests began in Syria last month.
'Muted mutterings'
The BBC's royal correspondent Peter Hunt said the royal guest list had already raised some eyebrows because two former Labour prime ministers, Tony Blair and Gordon Brown, were not on the list.
St James's Palace said they were not invited - while their Conservative predecessors Sir John Major and Baroness Thatcher were - because they are not Knights of the Garter.
But Labour former Foreign Secretary Jack Straw told BBC Radio 4's Today programme: "I frankly was surprised that two former prime ministers were not invited whereas, in the equivalent situation in 1981, they were."
On the Syrian ambassador he said: "You have to do these things in a fairly protocol-ese way." But he added: "There may have been a way within those rules to ensure that he was somewhere else."
Some Labour MPs suggested Downing Street had a hand in the omission of Mr Brown and Mr Blair. A spokesman for Number 10 said the guest list was a matter for the Palace.
There has also been criticism of the decision to invite the senior representatives of two countries which have recently clamped down on pro-democracy protests - the King of Swaziland and the Crown Prince of Bahrain.
They pulled out at the weekend so as not to overshadow the event.
About 2,000 people have been invited to Westminster Abbey for the wedding of Prince William and Kate Middleton on 29 April.
More than 200 of the guests will be drawn from the ranks of government, Parliament and the diplomatic corps.