Newspaper review: Papers focus on royal wedding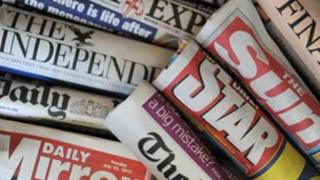 On the eve of the royal wedding, final preparations and a growing row over the guest list fills many of the papers.
The Daily Mail says there is "fury" that the Syrian ambassador has been invited when the Syrian regime is slaughtering hundreds of its people.
The Times notes invites to dignitaries from Libya and Malawi have been withdrawn and Bahrain declined.
Meanwhile many papers have photos of Prince William in his football kit after a kickabout in Battersea Park.
Growth figures
Amid much analysis of the latest growth figures, the Times says there must be no retreat from the "tough decisions" taken on the deficit as postponing them would mean harsher tax increases later.
The Daily Telegraph agrees: it says the recovery will be "slow and painful" - but the government must hold its nerve.
But the Daily Mirror says the economy was recovering faster under Labour.
The paper argues the coalition is now making hard times worse by cutting public spending too fast.
Oh dear
There is much debate about the "calm down, dear" taunt directed by the prime minister at the Labour frontbencher, Angela Eagle, in the Commons.
The Guardian asks: "Was this the moment David Cameron's mask slipped?"
Writing in the paper, Ms Eagle says it's a phrase that "no modern man would use towards a woman", which reminds her of the fictional bully, Flashman.
But the Daily Express describes Labour's anger as "po-faced"; while the Sun suggests Labour should "grow up".
Secret service
In other news, the Mail reports new research suggests heart attacks are significantly more dangerous in the morning than at any other time of day.
Scientists have found patients struck before midday suffer 20% more damage.
Finally, the Telegraph tells the tale of a man who wrote to Royal Mail asking where he could find post boxes nearby.
It refused to reveal their locations - claiming it was a "commercial secret", something the man found ridiculous as most are "bright red, four feet tall".