G20 inquest to consider unlawful killing charge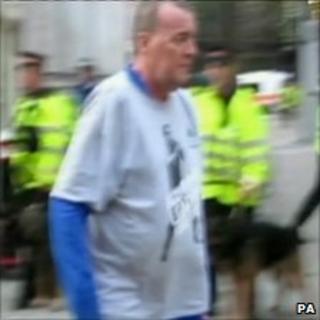 Jurors at the inquest into the death of Ian Tomlinson will consider whether the actions of a police officer amounted to unlawful killing, a coroner has said.
The jury must decide whether Pc Simon Harwood acted illegally and directly caused the death of Mr Tomlinson at the G20 protests in London on 1 April 2009.
Judge Peter Thornton QC was summing up at the inquest into the death.
Mr Tomlinson, 47, collapsed and died after he was hit by a baton and pushed to the ground by the officer.
Judge Thornton said the jury had to decide if the baton strike and push were "unlawful" and "dangerous" and whether they inadvertently caused Mr Tomlinson's death.
The judge said the push on Mr Tomlinson did not have to be the "sole or principal" cause of death for the jury to return an unlawful killing verdict.
The jury was told the three other possible verdicts were misadventure, natural causes and open.
Pathologist evidence
Judge Thornton said pathologist Dr Freddy Patel's "credibility" as a witness must also be considered.
Dr Patel, who carried out the first post-mortem examination on the newspaper seller, initially said Mr Tomlinson died of natural causes, but changed some of his evidence when challenged during the inquest.
The inquest has heard that Dr Patel was suspended by the General Medical Council for failings in his post-mortem examinations in other cases for three months in 2010 and was since given a further four-month suspension.
The jury had already heard that two pathologists disagreed with Dr Patel's finding that death was due to natural causes and believed that Mr Tomlinson died from internal bleeding.
Jurors were told for the first time that a fourth pathologist had come to the same conclusion.
The jury has been told the Crown Prosecution Service could review its decision not to seek charges against police officers depending on its verdict.
The month-long hearing at the International Dispute Resolution Centre in Fleet Street, central London, has heard Mr Tomlinson fell to the ground after Pc Harwood hit him on the thigh with a baton and then shoved him from behind.
Mr Tomlinson, who was not part of the G20 protest, got back to his feet but collapsed and died minutes later.