Royal wedding: Five held during celebrations charged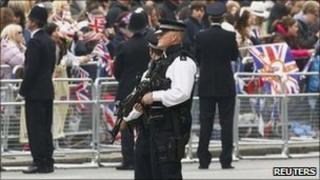 Five people arrested in London during Friday's royal wedding have been charged, Scotland Yard has said.
Charges against the five, aged between 26 and 33, include common assault, going equipped to cause criminal damage and possession of an illegal weapon.
They were among 55 people arrested in what police have called the "biggest security operation in a generation".
The police estimated one million people had gathered along the wedding route and said this was more than expected.
Thousands of police officers created a "ring of steel" around the venues. Snipers took to rooftops and undercover officers mingled among the crowds.
More than 90 people were banned from the area and as many as 80 VIPs were granted personal protection.
All of those charged were granted bail.
A further three people were bailed without charge and 37 were released without charge.
Among those arrested on the day were 10 people carrying climbing gear and anti-monarchy placards near Charing Cross.
Officers went to two anti-wedding protests in central London but said they were "no problem".
They questioned masked anti-monarchy protesters in Soho Square. And anti-monarchy group Republic held a peaceful "not the royal wedding" street party in Red Lion Square, Holborn.
The five charged were John Dobson, 32, of Leigh, Lancashire - charged with going equipped to cause criminal damage; Terry Butts, 26, of Leatherhead, Surrey - charged with a racially aggravated offence; Piotr Domzala, 33, of Co Tyrone, Northern Ireland - charged with possession of an offensive weapon; Dean Hall, 31, from north London - charged with a public order offence; and Kieron Sinnot, 26, of south London - charged with common assault.