Royal wedding: Couple spend secluded weekend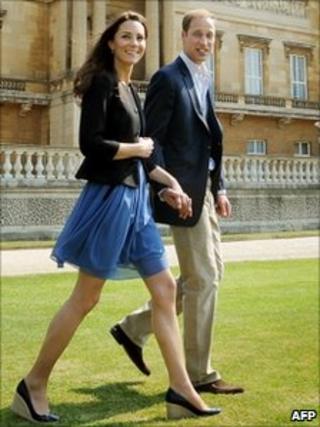 The Duke and Duchess of Cambridge are spending their first weekend as a married couple at a secret location.
The couple, who married on Friday, have opted to delay their honeymoon, with Prince William returning to his job as an RAF helicopter pilot on Tuesday.
Sunday papers have reported speculation about their weekend stay, including various royal residences. The honeymoon details have yet to be revealed.
Meanwhile, Clarence House has said the dress may go on public display.
'Buzzing with happiness'
Places where the royal couple may be spending the weekend include royal residences such as Windsor, Balmoral and Sandringham.
Other possible spots for their weekend - according to the Sunday papers - include the Scilly Isles and the Isle of Mull.
Clarence House said they would not be spending the weekend at home on Angelsey, where Prince William works as an RAF search and rescue pilot.
Further details of Friday night's party with 300 friends and family have been reported.
Millie Pilkington, the couple's private photographer, described the couple as "buzzing with happiness" and the party's atmosphere as "absolutely extraordinary".
She said the wedding speeches, by best man Prince Harry and the duchess's father Michael Middleton among others, were "absolutely hysterical".
The Middleton family returned to their home in Bucklebury, Berkshire, on Saturday.
In keeping with royal tradition, the duchess's bridal bouquet was returned to Westminster Abbey where it was placed it on the grave of the unknown warrior in honour of Britain's war dead. It was a tradition started by the late Queen Mother in 1923.
Speculation about the honeymoon has continued, with suggestions including Africa, in particular Kenya, where the prince proposed to Catherine last year.
Jordan, where the duchess spent two years with her family as a child, has also been touted as a possibility, but continuing unrest in the Middle East could mean it is less likely as a destination.
A secluded Caribbean island - or an Australian island - might be a safe choice, papers suggested.
The duchess's ivory gown with lace bodice, designed by Sarah Burton of Alexander McQueen, received approval from fashion world and the general public.
A spokeswoman for Clarence House said: "The Duchess of Cambridge is considering a number of options to give members of the public the opportunity to see close up the skilled British craftsmanship that went into the making of her wedding dress by Sarah Burton and her team as well as the Royal School of Needlework."
The spokeswoman could not say exactly when or where it might be exhibited but a number of gowns worn by Diana, Princess of Wales, are displayed at Kensington Palace.