National Trust warning as dry weather blazes continue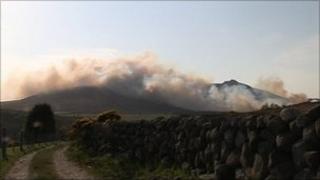 The National Trust says gorse fires in the Mourne Mountains in County Down will cause "immense damage" as blazes continue around the UK.
Police in Northern Ireland are urging people to stay away from the affected area for several days.
Firefighters in Lancashire are tackling three separate moorland fires near Belmont, Bacup and Ormskirk.
Members of the public who are out on the moors in the dry weather have been warned to take extra care.
Firefighters from 60 of Northern Ireland's 68 stations are fighting gorse blazes.
Officials believe many of the fires were started deliberately. They say they could endanger lives, as resources are stretched and other calls for assistance cannot be responded to as quickly as usual.
More than 150 firefighters have been tackling the fires in Lancashire.
The bank holiday weekend has also seen fire crews being called into action in the Scottish Highlands and in parts of Wales.
The recent dry weather has been blamed for the spread of the fires.