HMS Ark Royal sale viewings take place in Portsmouth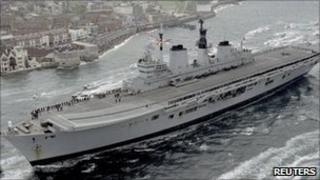 Potential buyers of HMS Ark Royal have had the first chance to look at the Royal Navy's former flagship.
Ministry of Defence (MoD) tours of the aircraft carrier are taking place at the Portsmouth Naval Base.
The vessel, decommissioned in March after 25 years service as part of the government's defence budget review, is up for sale on the MoD auction website.
Defence chiefs are reportedly backing a plan to use the carrier as a floating commercial helipad in London.
A Royal Navy spokesman said: "The sale of Ark Royal is ongoing and potential bidders are visiting the ship today and tomorrow."
Only potential bidders who have registered an interest on the edisposals.com auction website are allowed aboard for the viewings.
Those attending were required to submit an outline of their "intentions regarding the vessel" to the MoD in advance.
Proposals for Ark Royal include turning it into a school, a nightclub or a base for security personnel during the Olympics.
But it could also be sold for scrap like its sister ship HMS Invincible.
£14bn budget
Ark Royal's operations have included leading the UK's naval forces during the invasion of Iraq.
The current ship is the fifth vessel to carry the name - the first saw battle in 1588 against the Spanish Armada.
The MoD's defence equipment and support arm has a budget of £14bn to equip the UK's armed forces with everything from aircraft to clothing.
In order to supplement that, it regularly sells off kit that is no longer needed.
Also on sale currently are three Type-42 destroyers - HMS Exeter, HMS Southampton and HMS Nottingham.
Bidders have until 1000 BST on 13 June to put their tenders forward for Ark Royal.