Ian Tomlinson G20 push witness recalls nightmares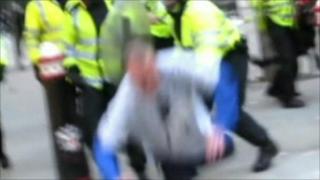 The man who helped Ian Tomlinson after a police officer pushed him over during the G20 protests has said the incident was "unbelievable".
Alan Edwards, of Derbyshire, said he had suffered nightmares and struggled to come to terms with what he had seen.
Mr Edwards was just feet away from Pc Simon Harwood when the officer struck the newspaper seller during the April 2009 protest in London.
At the inquest, the jury saw footage of Mr Edwards helping Mr Tomlinson.
Mr Edwards told the BBC he had returned to the scene on each anniversary of Mr Tomlinson's death.
At the inquest, he described how he had been in the area of Cornhill and the Bank of England for most of the afternoon leading up to the push and fall.
Shortly after 1900 BST, he saw teams of officers with dogs begin to clear the area, moving along the streets and into the Royal Exchange arcade shown on this map.
One of those he saw fall was a BBC cameraman.
"The police dogs began to move down the Royal Exchange and, when that happened, I retreated to the Victorian pump by the side of the road," he told the BBC.
"I saw Mr Tomlinson being moved up the Exchange by the line of police dog handlers.
"They pushed him - they moved him with physical force. It wasn't that bad, but it was noticeable.
"I was a bit worried for him, he was an older gentleman, sort of my dad's age and I was a bit worried because I had seen people struck with batons and shields."
Mr Edwards did not see Pc Harwood hit the 47-year-old, or the push on his back, but he saw the fall.
"When Mr Tomlinson got to the bollards, I thought he was OK because the police line had stopped.
"All of a sudden he came flying through the air straight towards me and landed on the ground heavily.
"After that I covered the ground quite quickly and asked him if he was OK and tried to help him as much as I could."
On the footage recorded by witness Chris La Jaunie, Mr Tomlinson has his hands in his pockets and is moving away from the police line.
Pc Harwood can be seen coming forward a few yards and pushing Mr Tomlinson hard in the back.
Mr Edwards can be seen rushing to his aid, crouching on the ground.
"I spoke to him, but I don't remember what he specifically said," said Mr Edwards.
"I asked him if he was OK, and he said he wasn't happy about what had happened to him.
"But he must have said he was OK, because I left him.
"I pointed him up the street to perhaps the best way of getting out of the area.
"I then watched him walk off."
Mr Tomlinson began walking along Cornhill, but within minutes he collapsed.
Police officers tried to resuscitate him, but he died at approximately 1930 BST.
Recalling the events, Mr Edwards said: "I was shocked to be honest, it was unbelievable.
"I don't know how to explain it properly.
"For him to go flying through the air like that, I can't see that as being reasonable especially the attack happened behind him and I don't think he was warned because he didn't turn around.
"The only time I have seen something similar is a car accident.
"He was struck with an immense amount of force and I don't know how it could be justified."
Mr Edwards said all the evidence pointed to Mr Tomlinson posing no threat to anyone as he tried to make his way home.
"It saddens me that something like that can happen and nothing is done about it.
"My heart goes out to his family.
"For a local resident trying to get home, to happen to them, is sickening."