RSPCA says animal cruelty complaints rise 10% in 2010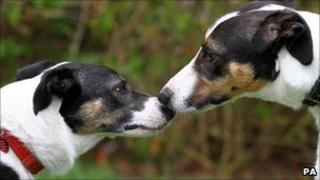 The RSPCA investigated nearly 160,000 complaints of animal cruelty last year - a rise of more than 10%.
More than 86,000 people were given advice by inspectors on how to improve the welfare of their animals.
But the charity, which received more than 1.1 million calls from the public in England and Wales in 2010, says the number of animals it rescued fell.
The RSPCA says the figures suggest people were taking its tips on board rather than giving their pets up.
Tony Woodley, from the RSPCA inspectorate, said: "Offering welfare advice is a crucial part of the work of the RSPCA since the Animal Welfare Act came into law in 2007.
"It enables our officers to actually prevent cruelty by issuing owners with advice on how to care for and treat their animals.
"Over nine out of 10 owners chose to follow the advice rather than risking prosecution, which is always a last resort as far as the RSPCA is concerned."
The figures - released during RSPCA Week - showed more than 64,000 animals were rehomed last year and some 210,970 animals treated and helped in the organisation's hospitals and clinics.
The RSPCA, which spent almost £4m on veterinary care in 2010, said it investigated 159,686 complaints of alleged animal cruelty, and issued 86,354 owners with advice.
Mr Woodley added: "It is thanks to the commitment and dedication of our officers that they managed to investigate so many complaints and rescue so many animals, especially given the treacherous weather we had in the early and latter parts of the year."