Newspaper review: Bin Laden death details explored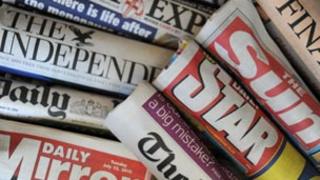 The death of Osama Bin Laden continues to fascinate the papers and many try to piece together how he was able to live unnoticed for so long in Pakistan.
The The Times reports his compound remained "more or less hermetically sealed off".
But the Daily Mail says a doctor made frequent visits to give Bin Laden treatment for a kidney condition.
The Daily Mirror and the Financial Times both say jihadist cleric Anwar al-Awlaki is waiting in the wings to take over al-Qaeda's leadership.
Details differ
The main story for the Daily Telegraph is the changes in the account of the raid on Osama Bin Laden's hideaway provided by the White House.
First it said Bin Laden was armed and used his wife as a human shield and then it emerged he was unarmed and his wife in a different room.
The revelation that he was unarmed is also the headline on the Sun's front.
The paper makes the point that he died "just like his 9/11 and 7/7 victims".
Conspiracy theorists
An image from the White House as the raid on Osama Bin Laden's compound took place is printed in many of the papers.
The Guardian says President Obama was still wearing his golfing gear from the nine holes he played earlier.
The Daily Mail says it could have been a scene from TV drama The West Wing.
The Daily Express is among the papers to report that the president is under growing pressure to release photos of Bin Laden's body to "silence" conspiracy theorists.
'Cabinet bust-up'
Back in the UK, many of the papers set out their stall in advance of the alternative vote referendum.
The Independent uses its front page to urge readers to back the change to the under the headline "Just Say Yes".
The Guardian and Mirror also back the Yes campaign, while the Sun, the Daily Mail and Telegraph go for a No vote.
Meanwhile, tensions over the vote among the coalition government are dissected in most papers with the Daily Telegraph describing them as a cabinet "bust-up".