UK soldier dies biking in Cyprus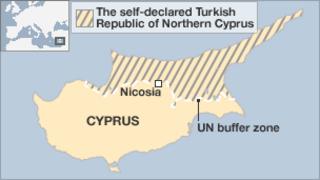 A British soldier has died after falling ill while mountain biking in Cyprus, the Ministry of Defence said.
The Territorial Army soldier, of 73 Engineer Regiment (V), fell ill and assistance was called for.
The soldier, attached to 3 Royal Anglian Group, later died in a hospital in the capital Nicosia. The MoD said his family has been informed.
He was serving as part of the United Nations Peace Keeping Force in Cyprus.
The MoD declined to give further details about the soldier's death.
'Heartfelt condolences'
Paying tribute to the soldier, Captain Matt Lindow, a spokesman for the UK contingent of the peacekeeping force, said: "His commitment and selfless dedication to the Territorial Army will not be forgotten, he will be dearly remembered by all whom have had the privilege to serve with him.
"We offer heartfelt condolences to his family and friends. We will remember him."
The peacekeeping mission in Cyprus was established in 1964 to prevent further fighting between the Greek Cypriot and Turkish Cypriot communities on the island.
The mission's responsibilities expanded in 1974 when Turkey invaded the north of the island in response to a military coup.
A ceasefire between the two forces was subsequently established and it is this agreement that the UK forces are still involved in.
British troops patrol the buffer zone or "green line" separating the north and south of the island.
An MoD spokesman said patrols are conducted by vehicle, by foot or mountain bike.