Newspaper review: Stakes are high as UK goes to polls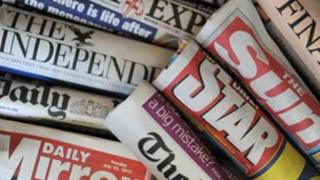 For many papers, it is Super Thursday - the day the referendum coincides with local and national elections.
The Independent says the stakes are high for all the three main party leaders at Westminster.
For the Financial Times, Britain will be giving its first verdict on a year of coalition rule.
The Times says whichever way Britain votes, the mud-slinging and bad blood of the AV campaign have consequences for the coalition's future.
Suicide vest
President Obama's decision not to release pictures of Osama Bin Laden's body makes the lead for the Telegraph.
It says the president is risking a row with the CIA's head, who had suggested the pictures would be released.
The Mirror leads with reports US special forces were told to assume the al-Qaeda leader was wearing a suicide vest and kill him unless he was naked.
According to the Sun, an al-Qaeda warlord has outlined a plot to stage a Mumbai-style massacre in Britain.
'Grave reservations'
Some papers assess the reconciliation deal between the two main Palestinian factions, Hamas and Fatah, establishing a unity administration.
For the Times, no responsible government can engage with an administration that includes Hamas without the gravest of reservations.
Hamas, it says, has everything to gain and Fatah everything to lose.
The Guardian says the accord may prove fragile, but the only path for all Palestinians is to unite and reform.
Road trip
Papers tell what the Express calls the remarkable story of three of the world's biggest stars travelling for miles across America in a rental car.
It says Elizabeth Taylor, Marlon Brando and Michael Jackson embarked on their journey the day after the 9/11 attacks.
They had been in New York for Jackson's concert and could not fly out because planes had been grounded.
But it seems Brando annoyed the others by demanding stops at every KFC and Burger King en route to Ohio.