Rain forecast may mean end to wildfire problems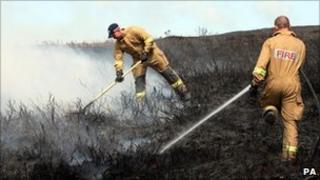 Forecasters say much-needed rain could bring some respite to emergency crews battling wildfires in parts of the UK.
The hottest April on record has caused large areas of parched, tinder-dry land to go up in flames over the past week.
It is believed many of the fires have been started deliberately. Experts say vegetation and wildlife could take years to recover from the damage.
Fires continue to burn in Berkshire, Lancashire, north and south Wales and West Yorkshire.
The Royal Berkshire Fire and Rescue Service is still tackling heathland fires which broke out in the Swinley Forest area earlier in the week, while in Lancashire, crews continue to battle blazes in the West Pennine Moors.
Greater Manchester Fire Service says Wednesday's blaze at Red Moss Nature Reserve in Horwich, Bolton, is now under control.
Lancashire fire crews have been working on a five-hour shift rotation to prevent exhaustion and have been supported with food and drink supplies by the Salvation Army.
The fire service said crews had been left physically exhausted in recent days, as they were having to dig up the ground before getting to smouldering fire deep in the peat.
In Northern Ireland, crews have fought more than 1,000 gorse and forest fires in the past four days, which have now been put out. Fire chiefs there said it was their busiest time in 30 years.
North Wales Fire Service warned of the fire hazards of Chinese lanterns being released into the air.
Spokesman Dave Evans said: "With the increasing use of Chinese lanterns at wedding ceremonies and other celebratory events, the public needs to be aware that these lanterns have a number of associated problems.
"Our primary concern is the risk of a smouldering lantern causing a fire and the injuries they can cause to livestock if consumed by the animal."
Mr Evans said the fuel cells in the lanterns have embers which could fall to the ground and carry on glowing for a number of minutes even after the flame has gone out.
Thames Valley Police investigating fires in Berkshire said they had arrested two youths on suspicion of arson, both of whom have now been released on bail.
The fires have caused widespread environmental damage which experts say could take years to recover.
The RSPB said ground-nesting birds were especially at risk and that one of the country's rarest species of finch was under particular threat.
The RSPB said the twite - a type of finch - could see up to 40% of its English population affected by fires in the north of England.
The Met Office said April had been the hottest on record, with many areas of the UK registering temperatures 3-5C higher than usual. It was the 11th driest April on record.
England and Wales have experienced only 21% of their average monthly rainfall for the month and south-east England has been particularly dry.
But despite the dry weather the Environment Agency said it had no plans to introduce a hosepipe ban this summer.