Newspaper review: Election fallout assessed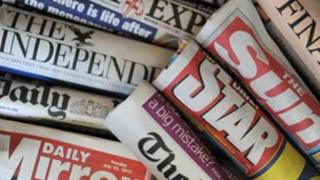 Many papers assess the coalition government's future after the elections - and there are warnings of trouble.
The Times and Guardian and carry comments by former Lib Dem leader Lord Ashdown in which he accuses David Cameron of a breach of faith over the anti-AV campaign.
He tells the Times the way party leader Nick Clegg was targeted by the No camp was "deeply vicious".
The Financial Times reckons the PM's expected victory will "reconnect him" with a restive Conservative party.
Resounding rejection?
The Daily Telegraph says Nick Clegg is facing questions about his leadership - with his popularity among Lib Dem members sinking to an all-time low.
The paper claims Chris Huhne, who strongly criticised senior Tories, over the AV campaign - is the party's most popular minister.
The Sun claims the AV referendum "bored" voters and predicts a "tiny" turnout.
It says "a resounding rejection" of AV will be a "calamity" for Nick Clegg.
Verdicts awaited
Pictures of President Obama at Ground Zero in New York feature on the front of the Times and Independent.
The Independent describes the scene as "a moment of closure" and also looks ahead to the conclusion of the inquests into the 7/7 bombings on London.
Anticipating the verdicts, the Guardian devotes a total of 10 pages in its paper and G2 supplement to the story.
Meanwhile, the Daily Telegraph leads with the row over the Archbishop of Canterbury's apparent criticism of the US over the killing of Osama Bin Laden.
Romantic meal?
The Sun and Star are among the papers to picture the Duchess of Cambridge on their front pages in a scene somewhat removed from last week's Royal Wedding.
She is also shown on the Daily Mirror, Daily Express and Daily Mail pushing a supermarket trolley in Anglesey, where Prince William is based with the RAF.
The Sun suggests she was set to prepare a romantic meal for her new husband.
The Express and Mail report she mingled with shoppers - and only stood out because of her three police bodyguards.